Wheels for Wellbeing is expanding its team, and we invite you to consider applying! We are recruiting for two brand-new (initially 12 months) senior posts: A Campaigns & Policy Manager and an Inclusive Cycling Operations Manager.
If you are excited by the prospect of working for a small Disability charity with huge impact, and feel you meet the job role criteria, please get in touch!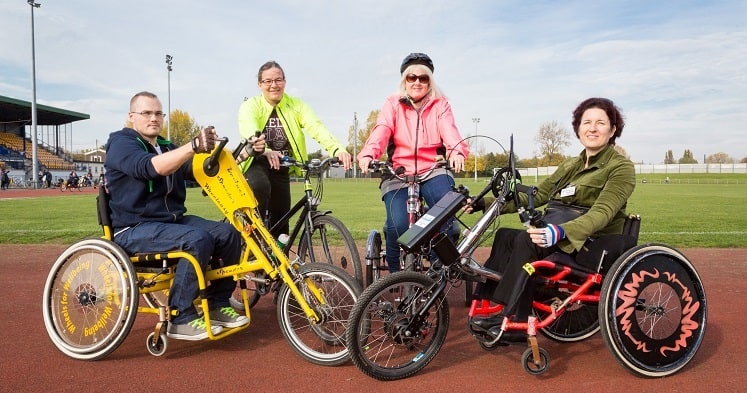 About WfW
Wheels for Wellbeing is the only inclusive cycling organisation run by and for Disabled cyclists. We have been supporting Disabled people to discover cycling for leisure, health improvement and transport since 2007. We work tirelessly at local, regional and national level to spread our unique understanding of the barriers and solutions to accessing active travel. Our approach is optimistic, dynamic and flexible, supporting others to ensure that cycling services, infrastructure and facilities are attractive and accessible to Disabled people, older cyclists, people cycling with children, cargo cyclists etc.
All our work stems from the diverse lived experience of our members, trustees, staff & volunteers. Difference is what makes us who we are and what makes us strong. It is what others value in our approach. We trust and hope you will bring yet new perspectives. Wheels for Wellbeing recognises the positive value of diversity, promotes equality and challenges discrimination. We welcome job applications for people of all backgrounds.
---
Campaigns & Policy Manager
This senior role will lead Wheels for Wellbeing's policy and campaigns brief, working closely with our Director, Campaigns & Policy Officer, Trustees and ambassadors to make the most of opportunities to make lasting change in the UK for Disabled people. You will ensure that the voice of Disabled people who wheel and cycle is heard loud and clear, in particular by the Department for Transport's Active Travel team and the new Active Travel England as they implement the Government's Gear Change plan.
Key responsibilities:
Lead the campaigning work of Wheels for Wellbeing to ensure the systemic barriers to Disabled people accessing cycling are understood and addressed at the national level.
Increase co-operation and partnerships across the expert inclusive/accessible cycling sector to grow capacity for lobbying, consultation and engagement.
Ensure the dissemination of WfW's existing expert knowledge so that the Department for Transport's Gear Change investment fully benefits Disabled people.
Ensure WfW supports increasing numbers of Disabled people and Disability organisations to positively influence Active Travel.
Participate positively in the running and development of Wheels for Wellbeing.
If you are a politically astute big-picture thinker and have at least 2 years' experience in a Policy and/or Campaigning role; if you have personal experience of Disability and/or of working in the Disability sector, then please have a look through the application pack and consider applying (closing date: May 4th 2021)!
---
Inclusive Cycling Operations Manager
This is a new senior management role as the organisation grows. You will provide leadership to our great operational team, and with them constantly improve and take a strategic approach to developing Wheels for Wellbeing's customer focused inclusive cycling services. You will operationalise a new cycle hire service (currently being piloted). Other key priorities for this post are: safeguarding of adults at risk and children, and the health and safety of all involved; improved data handling and impact evidencing; excellent budget management of our services.
Key responsibilities:
Support and oversee the safe re-opening of all our cycling services post-lockdown and the planning of new projects/services.
Lead and be a part of a happy and motivated team.
Promote excellent partnership working between Wheels for Wellbeing and a variety of stakeholders.
Participate positively in the running and development of Wheels for Wellbeing.
Are you an experienced manager and shaper of services, 100% focused on the needs of end users with 2 years' experience in either Disability, cycle training, sports & physical activity, community health or education? Do you excel at leading happy, motivated teams of staff and volunteers and have experience of putting Safeguarding, Health and Safety and good financial systems at the heart of providing safe and sustainable services? Then we would love to hear from you! Please read through the job pack below to learn more about the role (closing date: May 4th 2021).