#BeyondtheBicycle
Wheels for Wellbeing has a fleet of more than 200 inclusive cycles, including two, three and four wheelers, hand cycles and wheelchair cycles. Whether you're using two legs, one leg or none, or want to get around with a parent, friend or carer – we have a wide range of inclusive cycles for you to try out.
We don't sell anything so you get entirely independent advice from our instructors. We're the experts in how our fleet works; you're the expert in how your body works. Together, we will look for the cycling solution that works for you.
Below you will find a Cycles Gallery, showing examples of the main different types of cycles that exist out there (Handcycles, Bicycle, Tricycles, Recumbent Tricycles, Go-Karts, Cycles made for two, Side-by-Side Cycles, Tandems). Please note that the pictures below are there to give you an idea of the variety of different cycles. We may not have every single model at our sessions."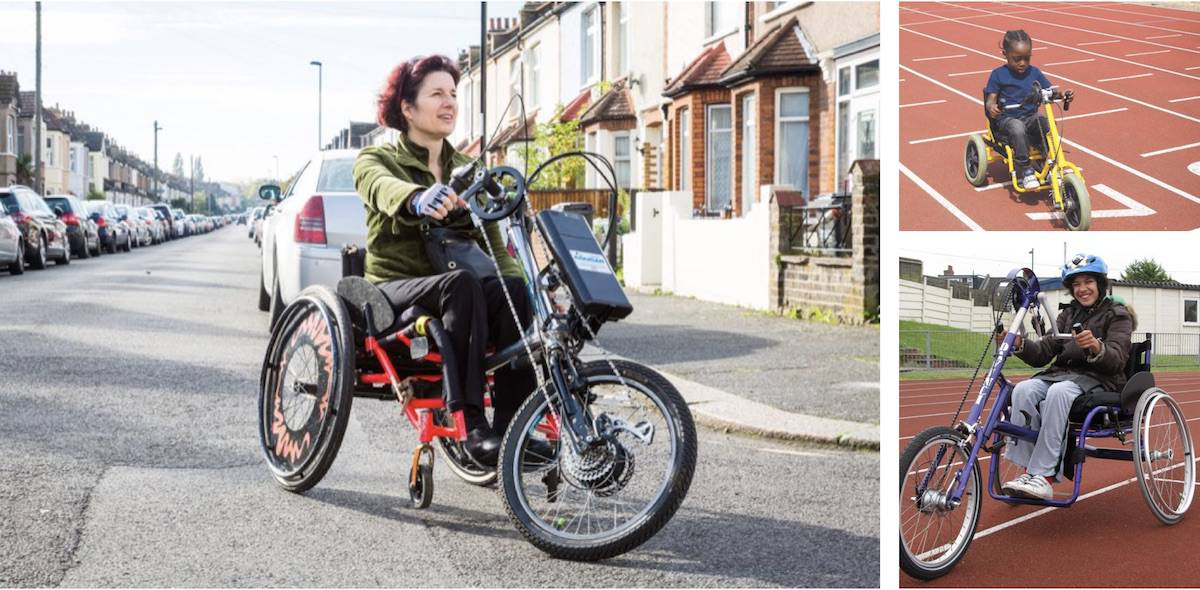 Who needs legs to cycle?!
Sizes to suit all ages
Clip-on handcycles: turn your wheel chair into the ultimate door-to-door transport!
Power assist versions available
For sporty handcycles checkout: www.handcycling.org.uk
"For me the most important discovery has been that I've been able to cycle with my godsons. They cycle on the two-wheel versions of bikes and they've had a try at the hand cycle as well. They have a greater understanding of what an adapted bike can offer to someone."
Niki.
Small adaptions can make all the difference: toe clips, crank shortners, one handed brakes, grip-aids etc
Power-assist & folding versions available
"The bike I use the most, is the Brompton. It has become my main mobility aid. I have adjusted the gearing to accommodate for the fact that I have only one leg to pedal. When I've ridden as close as I can to my destination I lower the saddle and scoot the last part, then fold the bike at the train door."

Kevin Hickman, WfW Trustee.
Comfy for the back
Less pressure on knee or hip joints
No worries about balance
Sizes to suit all ages
"It helps with my mobility and I enjoy doing it."
Anne Reed a recumbent cyclist aged 55.
Great for balance
Power-assist versions available
Sizes to suit all ages
Rear basket/trunk an option
"As a result of a childhood brain tumour, I have impaired balance and am unable to ride a two-wheeled bicycle. After searching many avenues I managed to find an adult tricycle for myself and have not looked back since. The exercise also helps me to keep fit and healthy which goes a long way to reducing the symptoms of my disability."
Neil, a commuter tricyclist.
Lots of fun
Balance is no problem
Some of us find a steering wheel easier than handlebars
The 'duet' bike is another option – sit in the front and enjoy the ride!
Feel the breeze and the thrill of moving at speed!
The wheelchair tandem enables one rider to remain seated in their wheelchair
Power-assist versions make Road-cycling even easier.
Back support
Less pressure on knees and hips
Pedal together
Chat and cycle!
"I loved cycling before losing my sight, and now I love the feeling of riding on a tandem. The breeze against my face and the wind in my hair makes me feel like I'm on the open seas, like when I piloted a yacht. If you don't leave the house much I'd say get out there and go for it."
Shani.
Cycling in pairs is fun, with or without an impairment!
Front Riders can provide an extra pair of eyes (if you're experiencing sight loss), an extra pair of legs, etc.
Great to develop teamwork skills!