2 wheels, 3 wheels, 4 wheels (or more): cycling is for everyone. To celebrate Bike Week 2021, we are re-posting some of the wonderful stories featured on our website in the recent past: stories of Disabled people who have discovered the joy of cycling for travel, exercise or leisure purposes… as you will see, cycling isn't just for a select few to make the most of!
---
STARTING YOUNG: RAFFERTY

One of our younger participants, Rafferty, first cycled with us in March 2020. When we announced that sessions would be postponed until further notice due to the pandemic, Rafferty's dad got in touch about borrowing a cycle from us (learning from his and a few others' happy experiences we have since started developing a citywide adaptive cycle hire scheme…click here to find out more!):

"Rafferty went cycling every day for the first two weeks, and still cycles most days. This is his first wheeled fun and he's really got to grips with it – putting his own feet in the clips really made him take off independently. It's really important for his neurodegenerative condition (one of the symptoms of which is paraplegic spasticity) to get lots of exercise; his lower limbs especially need a good workout."

With dad running alongside him, Rafferty was able to enjoy the quiet streets and flat circuits at the local park during the first lockdown – click here to read the whole story!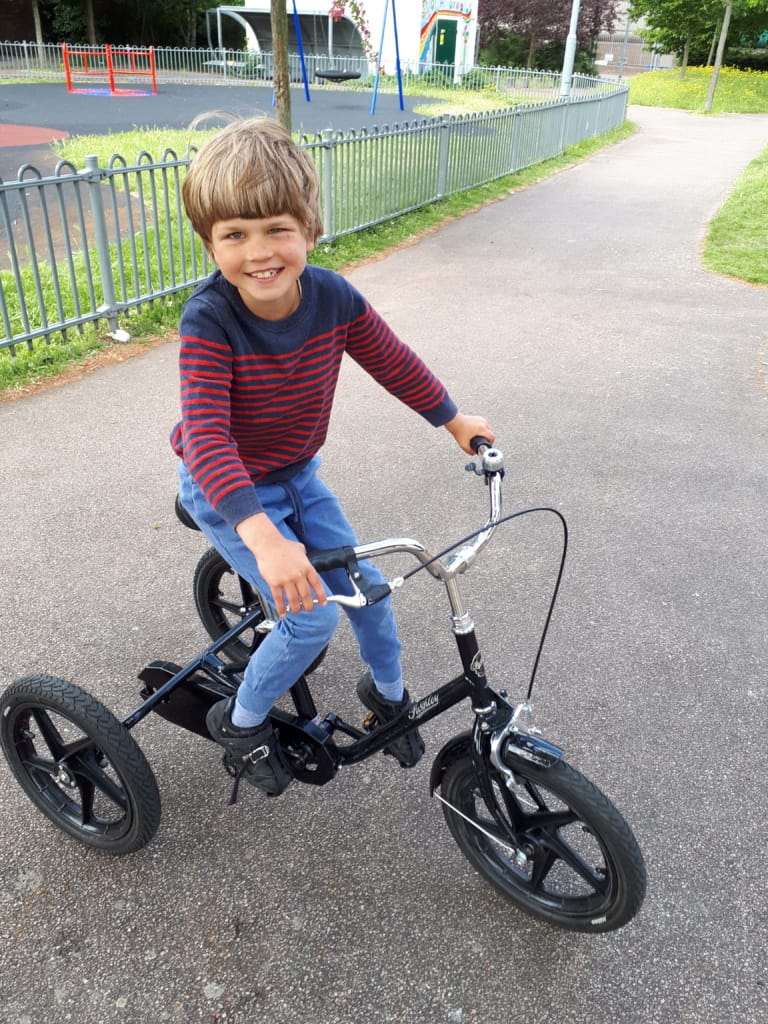 ---
FIRST TIME FOR EVERYTHING: KATIE

Katie Pennick, Campaigns Lead over at our ally organisation Transport for All, recently visited one of our cycling sessions at Herne Hill Velodrome. Here's what she said about handcycling for the very first time (ever)!

'There is a very specific kind of joy in discovering a new hobby or activity you previously thought it impossible to do. I've used a wheelchair my whole life, and I barely have the upper-body strength to self-propel (I use power-assisted wheels). I viewed handcyclists in the same way I view Paralympians: impressive, but worlds away from me.

Trying out handcycling for the first time a few weeks ago was actually quite overwhelming. I really thought in my head I wouldn't be strong enough. When the hand-brakes were removed and I immediately began moving, I was shocked and elated.

It was a joyous, freeing feeling. Gliding along, the wind in my hair, enjoying the speed. Afterwards my head was filled with ideas and thoughts and plans for all the endless possibilities that had just opened up to me. I can't wait to go on a cycling trip with my friends!'

---
FIRST TIME (IN A WHILE): FATIMA

Some Disabled people cycled when they were younger, either before becoming Disabled, or simply because it was an easier activity to do as a smaller child than as an adult. It's not uncommon for our participants and supporters to rediscover the joy of cycling later on in life, instantly remembering how cycling made them feel all those years ago. Take Fatima, for example:

"I've enjoyed cycling from a very young age. I got my first cycle from my parents when I was 4, but when I was around 7 (due to trauma and surgery) I lost the use of my arm and leg. I really wanted to push myself to start cycling again; I managed it when I was about 12 as my Dad got me a three-wheeled cycle that I could use. But then after more surgery I lost the ability to cycle again. It wasn't until I was nearly 40 that I returned to cycling on a three-wheeler. I love it – I really hope I don't lose the ability to cycle again!"

Click here to read Fatima's full story!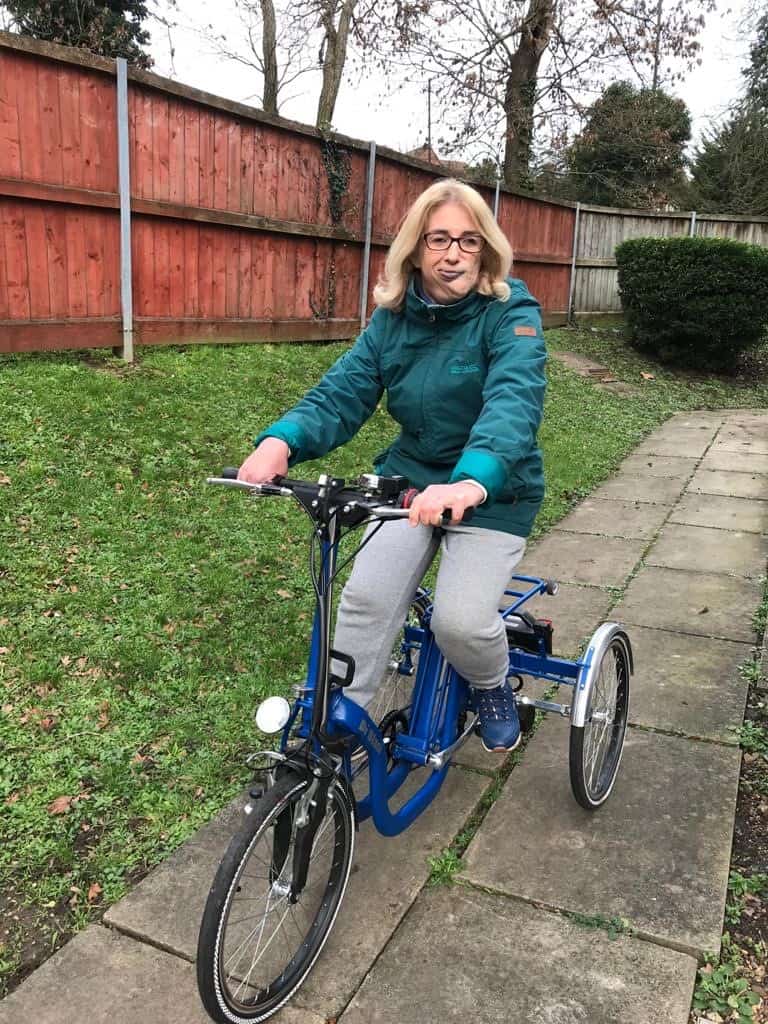 ---
ADAPTING ALONG THE WAY: KEVIN & JAMIE

One of our fantastic trustees, Kevin Hickman, uses crutches in his daily life. Also an avid cyclist and campaigner, Kevin has been trying and testing different ways to transport his crutches when cycling for years now, coming up with various creative solutions!

"I've resolved most of my crutches/sticks on bikes requirements using 22mm pipe clips and Brompton shock cords. In the case of my Brompton I attach two pipe clips to the seat tube with cable ties and loop a shock cord through the handle of a Brompton basket. […] On my recumbent trike I've mounted a couple of water bottle holders behind the seat which I drop the ferrules of the crutches into. I filed a slot in the pipe clips for the cable ties and I've found I need the shock cord to keep the crutches in place else they can pop out on rough roads."

You can read all about Kevin's genius cycle-crutch innovations here.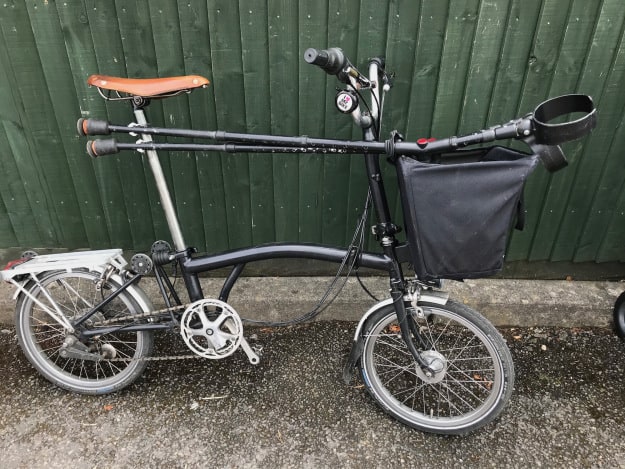 Another form of adapting is highlighted by Jamie, who recently switched from 4 wheels (a bike with stabilisers) to 3 wheels (a trike). This has been so that he can continue cycling despite the progression of his multiple sclerosis:

"The stabilisers were a brilliant short-term solution for me, I had a fantastic year on them, but sadly interrupted by Covid and lockdowns (one of my motivations was travelling, and that became a non-issue). […] Ultimately though they were not able to keep up with my changing needs. I needed more stability and more dependability, and stabilisers were not able to keep up. Partly it was because they were always ad hoc, added to a larger bike than intended. I needed slightly wider arms, slightly bigger wheels. This is a common problem I find: I'm long limbed and six-foot-tall and a lot of mobility aids are not well suited to my frame."

To read about Jamie's experiences on 4 wheels, click here (or here, if you want to learn more about his new trike).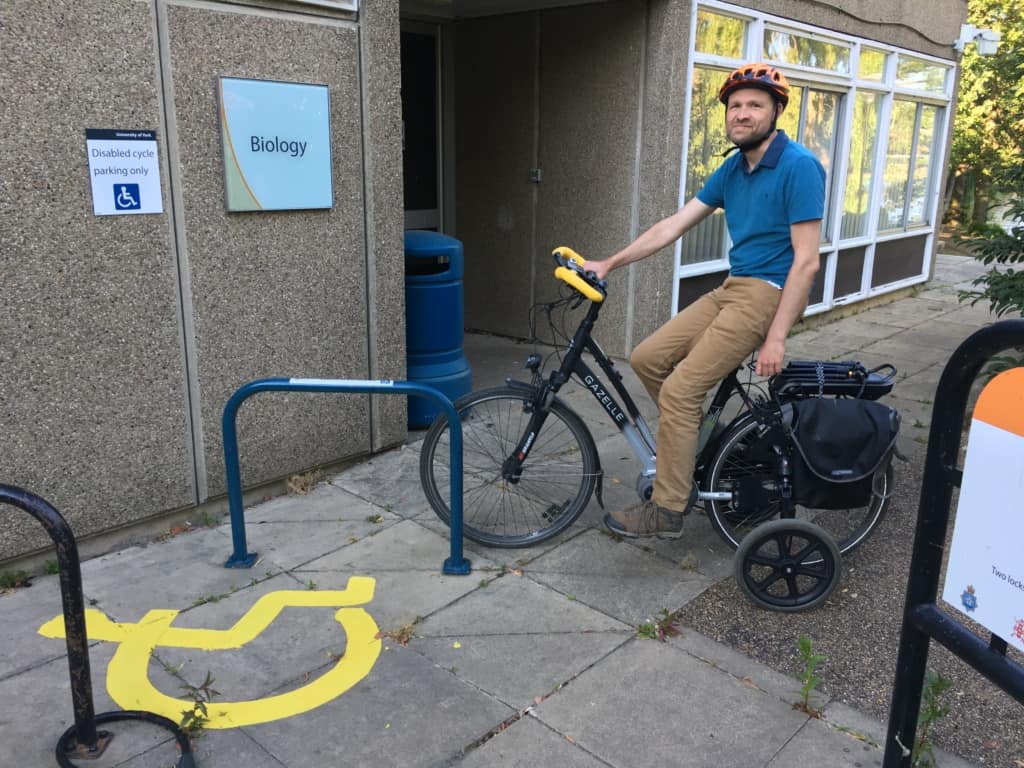 ---
UNEXPECTED BENEFITS

Given the wide array of accessibility needs and requirements met by adaptive cycles, they can often be used for different purposes (and for different people). Take Kay for instance, a 100-year old lady whose journey into cycling began after arthritis and gradual hearing and sight loss made the use of a mobility scooter impractical. Since buying a Van Raam O'Pair, her family have used it to visit the shops, park and even on holiday to Norfolk:

"I can see slightly more when on the cycle as I'm not having to look down at the ground. I can see the shapes of trees and buildings against the sky. We can go further than if I was walking. It's pleasant to encounter other people. It's fun when people show an interest in the cycle and we get talking."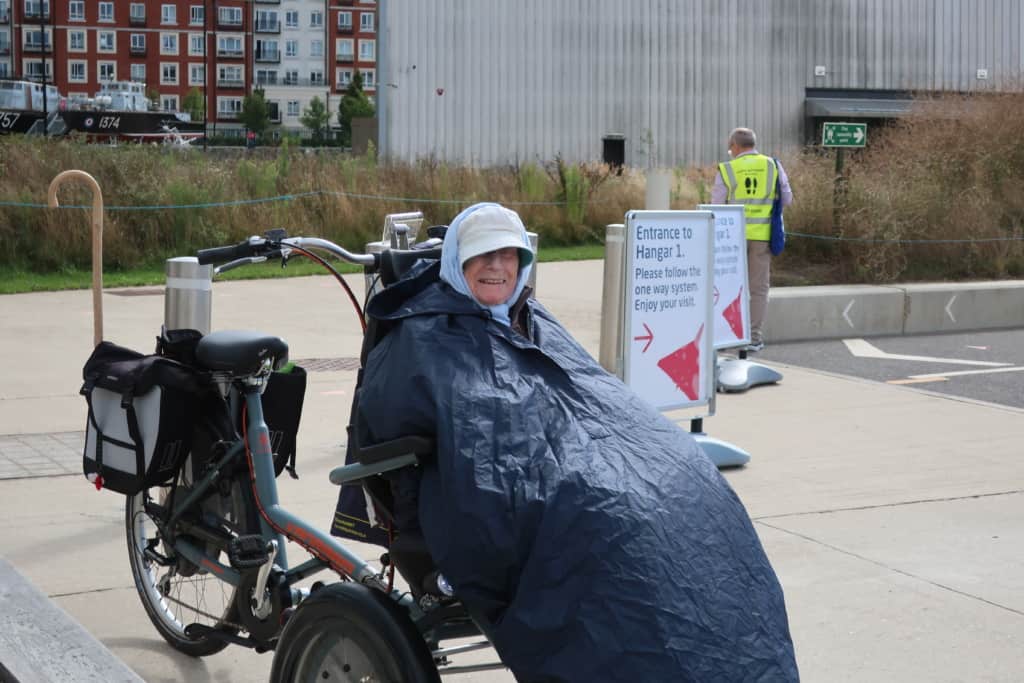 As well as being used for Kay (click here to read her story in full), the wheelchair cycle has recently helped another family member tremendously: Kay's son-in-law, Graham:

"At the hospital, the Van Raam cycle was accepted as a mobility aid and was allowed inside the building, which saved them from having to transfer Graham into a hospital wheelchair. The staff in the specialist department also found the wheelchair cycle a great talking point, and they made room for it by moving a trolley out of the way and parking the cycle behind a curtain.

"Though Graham has an incurable illness, he is feeling a lot better and has recognised that it is possible to live with his medical condition, rather than have his life ruined by it. The plan is now to go out on the cycle as often as possible – weather and medical treatment permitting. Graham's new ambition is to take 100-year-old Kay out for a ride!"

Discover more about how cycling has helped Graham since his diagnosis here.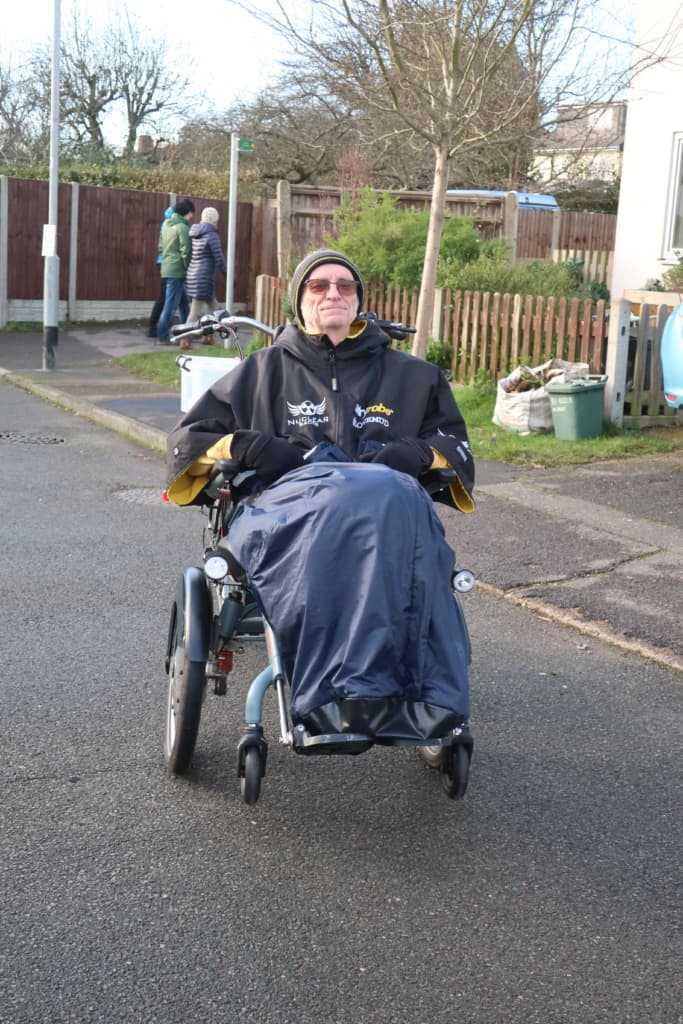 ---

Wheels for Wellbeing is constantly working to expose and remove the many barriers to cycling that exist for Disabled people, and so we thank Cycling UK for hosting Bike Week and promoting cycling as an activity for all to enjoy!
If you love what Wheels for Wellbeing does, then please consider volunteering or making a regular donation, however large or small. Thank you for your support!