For this episode of our My Cycle My Mobility Aid blog and podcast, we talked to Lucy about her cycling experience.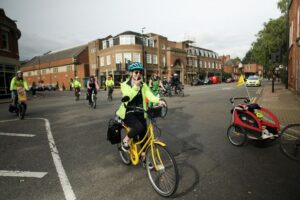 Lucy has ridden bikes for as long as she can remember, starting with a much-loved Raleigh Raptor. She has cycled around the UK, Europe, Beijing and Burkina Faso and is now a feminist cycle campaigner.
After contracting glandular fever in 2018, Lucy has suffered from ongoing health conditions which limit her strength and energy levels. Lucy told us about how getting first an e-bike then an e-bike conversion kit has changed her day-to-day options.
 Things changed for Lucy when she first became ill:
"When I first became unwell, walking was a massive challenge for me. I went from being able to walk without any issues at all, to really it being limited to about 15 minutes or so, which from a practical perspective, [you can't] get very far."
"I was living in London at the time, so I wasn't really cycling as much because I was using the tube. But when I moved back to my home city of Derby in 2019, I became much more reliant on the need to cycle because our public transport here isn't as good. And I realised I wasn't well enough to ride a standard cycle anymore."
Then Covid caused more problems:
"I became even more poorly and even that 15-minutes walking became impossible. So I started to use a wheelchair, but because of my conditions, I wasn't really able to propel myself. And I didn't really have anyone that could push me around. Plus, using a wheelchair is very challenging because we don't have the infrastructure, drop kerbs, there's parked cars everywhere."
The secondhand e-bike she started with made a big difference:
Lucy discovered that she could ride an e-bike, purchasing a second hand one and it improved her mobility no end . However, she is a cycle instructor, and it was too heavy for her to move around when teaching others.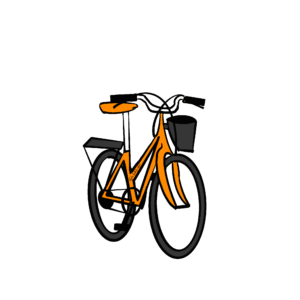 Now, she uses an e-conversion kit on a refurbished lightweight Dutch-style bike:
She's even painted it a fabulous canary yellow!
"Having my [e]bike enables me to get around simply, you know, go to the supermarket to get to work to see friends, family. So essentially, it does allow me to get around when otherwise I wouldn't be able to… On days when I'm struggling, I can [still] ride and use my bike to get to places."
Lucy believes that lack of understanding and defensiveness from decision makers are the biggest barriers to making cycling more accessible for everyone:
"They are designing, approving and implementing schemes that are not appropriate to enable Disabled people to cycle or people that are more vulnerable. And so I think, for me, that's the biggest challenge… ultimately, the source of [inaccessible infrastructure] is the decision makers that are making those choices."
"As a campaigner, whenever you try to raise issues around accessibility or inclusion, the mindset is a kind of defensive approach. It's "it's okay for me" [decision makers are] not really able to understand the barriers that other people might face, or they're not willing to understand."
The accessibility of the Mini Hollands and Cycle Superhighways in London has impressed Lucy:
"I used to cycle on the Cycle Superhighways, which are the blue, segregated lanes that you see throughout London. And they're not perfect, but what I liked about them is the connectivity. So often, you can kind of make a whole journey on those routes. I've seen Mini Hollands, I've seen real reallocation of road space for cycling. And you do then see different kinds of people cycling, which is evidence, I believe of it working effectively. So you do see children, you do see people in adaptive cycles, you do see people wearing normal clothing: So yeah, I would say they're the best examples that I've come across."
Lucy thinks real Disabled representation is key to improving cycling accessibility:
"I strongly believe If we had better diverse representation at decision making level, we would be able to resolve a lot of the problems that we see. So in every room if there was a person with a disability present, and not just from a tokenistic gesture level, actually pay them, listen to them, have them there when you're making the design, not at the consultation phase as a tick box exercise. Then we'd have better options immediately."
And in the end, Lucy's ideas are all about a positive vision for the future:
"if we had [better] alternatives to cars, potentially a lot of people with disabilities would use cycling as a way to get around. And so I think that it's really important to highlight the benefits of cycling for Disabled people not just to get around, but also from a kind of mental well-being and fitness perspective. And I think the key to that is to make our streets safer. And so that's why I continue campaigning, because I do believe there's a lot of potential and hope there."
You can listen to the full chat with Lucy and the rest of our fortnightly My Cycle My Mobility Aid podcast series on our My Cycle My Mobility Aid podcast channel and download the transcript. We have campaigning resources and support available via our website at www.wheelsforwellbeing.org.uk
If you would like more information or to share your story for our campaign please contact Kate@wheelsforwellbeing.org.uk