In this episode of our My Cycle My Mobility Aid blog and podcast, long-term keen cyclist and motorbiker Hari tells us about the different cycles she's used since becoming Disabled in a military training accident. She explains the work that's involved to enable her, as a Disabled person, to get to a point where she has reliable, low-pain mobility options for some of her everyday needs.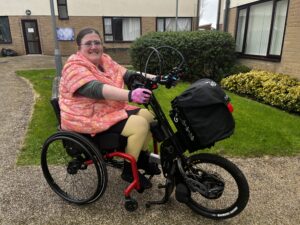 Hari's injury meant she had to give up driving. While she sometimes can walk short distances with crutches, she needs a wheelchair too and finds cycling is her best option for longer journeys: public transport and taxis have proven to be far from simple options!
"The buses that don't go where you need them to, when you need them to; Dial a Ride that will give you a bus journey only in one direction for the journey that you've booked three weeks ahead of time; taxi companies that will show up but then look at the wheelchair and go, I've got a back injury, I can't lift that…"
Hari's first post-injury cycle was a folding e-bike, bought in 2009 when they were really unusual in the UK. Travelling with crutches tied over her shoulders helped encourage drivers to give her a wide berth!
However, she found that she needed some extra power to get up Bristol's hills and away from junctions with limited leg strength. An e-bike with a throttle proved the perfect solution. Imported from New Zealand just before the UK laws changed to ban throttle models, Hari was able to get around on two wheels once again.
But a theft meant Hari was once again locked out of cycling: despite being insured, when her ebike was stolen during the pandemic, she was unable to replace it.
After a long period where a lack of suitable mobility aids made Hari largely housebound and prevented her from working or pursuing hobbies, her Armed Forces Compensation Scheme payment came through. Hari explained that the money let her buy a clip-on e-handcycle, complete with a legal 0-4mph throttle, that can –  almost – cope with all Bristol's steep hills.
With the handcycle, Hari has been able to make direct journeys where she wants, when she wants once again. She's volunteering as a Rainbows and Brownies leader and enjoying making journeys to medical appointments comfortably and in a reasonable amount of time now she doesn't need to wait for patient transport buses.
But, as our other podcast guests have mentioned, the state of our cycle infrastructure, bad driving and discriminatory attitudes all cause difficulties for Hari:
From hazardous potholes that can tip her handcycle, to ramps built so steep she just slides down them; from drivers who pass less than 30cm from her wheelchair to buses that won't let her board even though her handcycle is the same size as a larger electric wheelchair, Hari has found a whole range of barriers to using her cycle.
But, over time, she's worked out solutions to many of the problems she faces. Now she is working on some measures that she hopes will make cycling as a single Disabled woman feel safe, wherever and whenever she travels.
Hari no longer fears breakdowns when she's out on her handcycle:
"I have several mobile cycle repair guys who are willing to do minor repairs on my wheelchair, and also a couple of taxis that I know who will try and get out to me who've got a big enough vehicle that they can take the whole combination."
Her years of determined Disabled cycling and campaigning make Hari a real font of wisdom and expertise. Hari has loads of suggestions for individuals and organisations, for social and legal changes that would let Disabled people use cycling as the versatile and enjoyable mobility option it can and should be.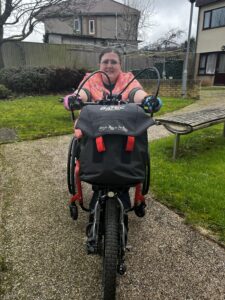 In the end, it's all about what cycling can do for Disabled people. In Hari's words:
"I am aware that there are bits of the community that are never going to find cycling accessible. But for those who can, it can be a fantastic way to get outside to enjoy bits of the countryside that otherwise wouldn't be accessible to you. To be able to get around cities without getting stuck in the endless traffic jams because we can't get people to wean themselves off vehicles.
"And I wish it was available to more people.
"I feel incredibly privileged, which is a sad thing to say, that I've had access to the Armed Forces Compensation Scheme and have actually been able to pay to get back on, well, it's not two wheels, I'm on three wheels, when I'm out on my handbike attachment, but just the freedom that comes with having been able to get back into cycling again, even after that two year break has been fantastic."
You can listen to the full double-length episode with Hari, and the rest of our fortnightly My Cycle My Mobility Aid podcast series, on our My Cycle My Mobility Aid podcast channel.  Download the transcript here. We have campaigning resources and support available via our website at www.wheelsforwellbeing.org.uk , too.
If you would like more information or to share your story for our campaign please contact Kate@wheelsforwellbeing.org.uk