On Monday 25th April the Minister for Disabled People, and keen cyclist, Chloe Smith visited Herne Hill Velodrome to meet staff, volunteers and participants at Wheels for Wellbeing's inclusive cycling session. Wheels for Wellbeing provide access to supported cycling opportunities for Disabled people at three venues in London and campaign nationwide for equal access to cycling for Disabled people. Cycling provides essential mobility for many Disabled people alongside health and environmental benefits. However, Disabled people face significant barriers to cycling including the cost of cycles, inaccessible cycle infrastructure and the fact that many Disabled people fear losing their benefits if they are seen cycling. Ms Smith met Disabled cyclists and had the opportunity to try out different types of cycles during her visit.
Minister for Disabled People, Health and Work Chloe Smith MP said:
"It was fantastic to visit Herne Hill Velodrome and see first-hand the physical and mental health benefits Wheels for Wellbeing provides for local Disabled people.
"Disabled people deserve the same opportunities as everyone else. We're committed to levelling up the country and building a society where there is equal opportunity to thrive."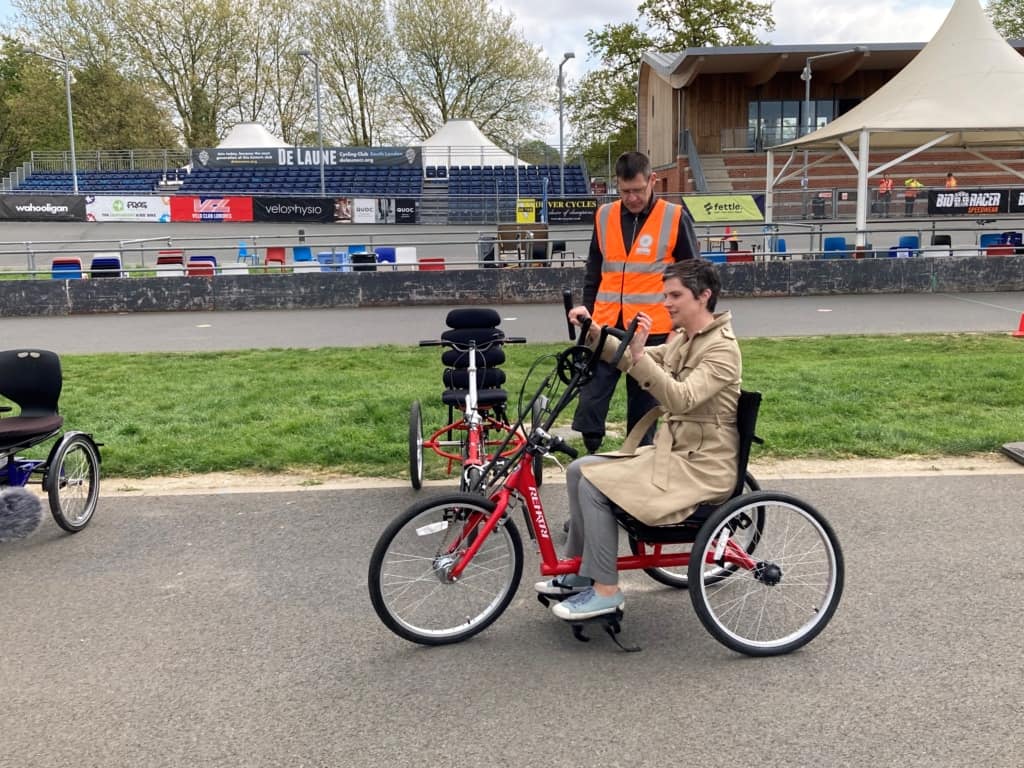 The Minister for Disabled People's role is to advocate for Disabled people across Government departments. This gave Wheels for Wellbeing the opportunity to ask her for help in a number of areas:
The Minister undertook to ask for a review of the training of benefits advisors, as it is crucial that they do not assume that being a person who cycles automatically makes you ineligible for Disability benefits.
She will also be pushing Motability to expand their scheme to include some of the very expensive adaptive cycles so Disabled people can access active mobility as affordably as car driving.
She will be talking to colleagues in the Department for Communities and Local Government about the importance of good quality, accessible footways and cycleways, so Disabled people can choose to walk/wheel or cycle, like everyone else.
Isabelle Clement, the Director at Wheels for Wellbeing, said:
"We were pleased to welcome the Minister at the Herne Hill Velodrome on Monday. She witnessed and heard from our participants how cycling offers them the combined opportunity for physical activity, social connections, independent movement, active travel and increased self-confidence and self-worth.
The Minister listened and undertook to go back to her Department and to talk to other Ministers about practical actions which can be taken to improve the accessibility of cycling for many more Disabled people".