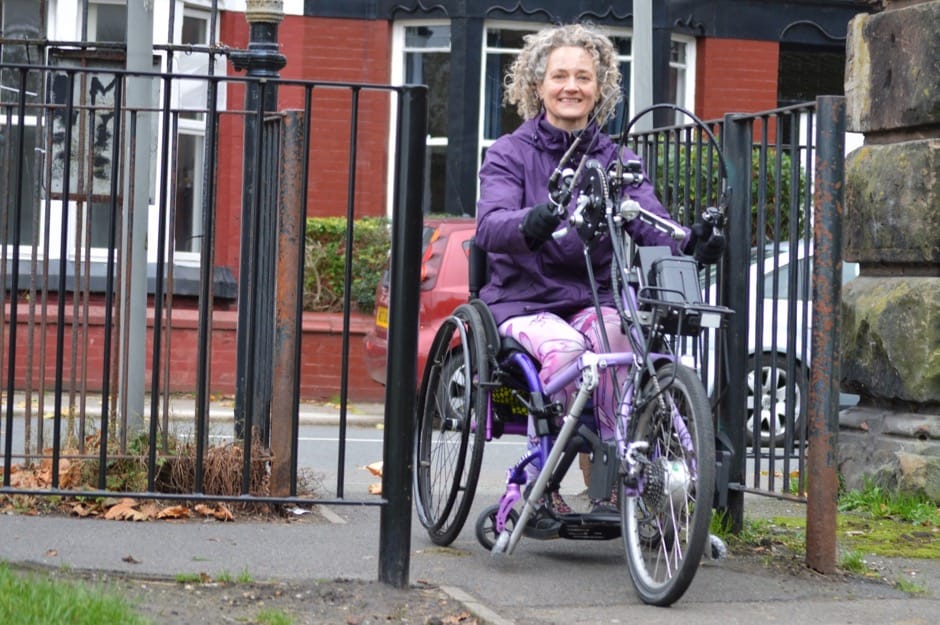 A voice for Disabled cyclists
A few years ago, we became increasingly frustrated by the fact that Disabled cyclists were mostly absent from the cycling debate. We decided we needed to speak up. This began with a presentation at a cycling campaigning seminar in 2014, where some of our key ideas were first formed, and culminated in the publication of our Guide to Inclusive Cycling three years later. Our objective now, as then, remains the same – we want a world where Disabled people are able to cycle whenever and wherever they wish, whether for transport, leisure or exercise. We are very proud to have become the voice of Disabled cyclists in the UK, and will continue to push for the needs and rights of Disabled cyclists to be met.
Our campaigns span a range of issues, from improving the inclusivity of cycle infrastructure to seeking legal recognition for cycles as a mobility aid. We hope that our campaigns will not only inspire Disabled cyclists to take action where their rights have been infringed, but will also help to inform policy and practice, leading to a world where cycling by Disabled people is easy and commonplace.
You can find out more about our current campaigns below.
My Cycle, My Mobility Aid
The majority of Disabled cyclists find cycling easier than walking, with many using their cycle as a mobility aid. However, under existing legislation cycles are not recognised in this way. We think this is discriminatory and can discourage many Disabled people from taking up cycling.
We are campaigning to ensure that cycles are recognised as a mobility aid, when used by a Disabled person for this purpose – putting them on a level playing field with wheelchairs and mobility scooters.
Infrastructure for all
According to our research, inaccessible cycle infrastructure is the biggest difficulty faced by Disabled cyclists. Narrow cycle lanes, steps, bollards and anti-motorcycle barriers are just some of the obstacles that can restrict or deny access to Disabled cyclists, as well as other users of non-standard cycles.
We are campaigning to ensure that all cycle infrastructure is designed with the needs of users of non-standard cycles in mind, with our Guide to Inclusive Cycling central to achieving this.
Invisible cyclists
Too often Disabled cyclists are overlooked by transport bodies and local authorities. In cycling publications and reports, for instance, there are far too few images of non-standard cycles. Disabled people are also most likely to be seen as car drivers or pedestrians when discussed in transport policy. Rarely are they thought of as cyclists.
We are campaigning to improve the representation of Disabled cyclists in cycling policy, imagery and language. In particular, we are working hard to create and make available a photobank of inclusive cycling imagery for use by all who use images of cyclists.
If you would like to learn more about supporting Wheels for Wellbeing then fill in the form below, call on 020 7346 8482 or drop us an email info@wheelsforwellbeing.org.uk.