On Easter Sunday, Lambeth residents Emily Groves and Alice Chamberlain took part in a fundraising challenge in aid of local disability cycling charity, Wheels for Wellbeing. They cycled around Hyde Park for 5 miles, with a group of friends, braving the rain, dressed as Easter Bunnies.
The 'Millionhares' had been friends since they were at school and are never shy of a challenge! So when Alice started working at Wheels for Wellbeing, she thought that the Easter Bunny Ride could be the perfect way to get the group together having fun, while raising money for a really important cause. Since the group agreed to the challenge, in January, they had been busy training and raising funds to support more disabled people to discover cycling and its benefits. The 5 fundraisers assembled at marble Arch, and quickly changed into their cheerful outfits.
What made the challenge even more poignant to Emily were the achievements of her Uncle, Mark, who was born with a condition not unlike spina bifida. "He's one of the most inspirational people I know. He has an incredible hand cycle that's taken him to some amazing places he wouldn't have been able to reach before. He even partook in the 1992 Winter Paralympics on the skiing team. He lives outside Seville now and gets everywhere on his bike without any limitations. Its charities like Wheels for Wellbeing that are going to inspire the next Mark, and that's why this is so important," she said. "The bunny suits were, let's just say it's a little bit see-through, a little bit tight and a little bit stuffy! – Especially when it rained. I did have to pin the bunny head into place, in fear that I'd be blinded and verge into a pond (which could have easily happened anytime the bunny face flopped across my face)."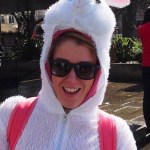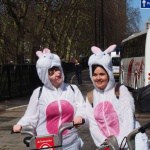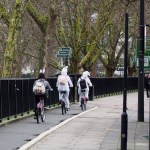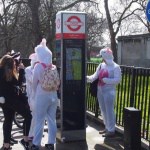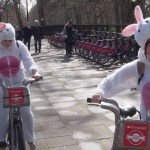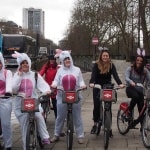 "Keen to make the most of the sunshine (and having just missed a torrential downpour!) we didn't waste any more time before going to collect our bikes. Once we had adjusted the seats and located the gears (all whilst trying to keep our bunny heads out of the way!) we were ready to go! None of us are seasoned cyclists, so it really was a challenge for us in many ways. I've only been on a bike twice since I was about 10 years old and my poor thighs were burning after a few minutes as I was working muscles I'd forgotten existed. Also, I've never been great with anything that requires balance, so really this was quite a monumental challenge for me! The other challenging part was mapping out a cycling route, as we encountered so many 'No Cycling' signs. The ride was lots of fun, and we got lots of encouragement from passers-by! When one person asked if we liked carrots we were very confused, until we remembered what we were wearing! It wasn't long before the rain started again, but luckily we had come prepared, and had some ponchos to change into. Yup, human-sized bunnies in ponchos… classy!" said Emily.
"When the sun came out again we stopped for another photo by the Serpentine – it was beautiful! We enjoyed it so much that we all agreed to carry on the ride when it had officially come to an end! So we extended our route by a few minutes before finally docking our bikes," said Alice.
"Taking part has definitely motivated me to get moving – I'd love to start cycling to work one day and maybe this will give me the boost I need!" said Emily.
The MillionHares then headed off for a well-deserved rest in the pub, for some carrot juice and wasted no time discussing their next challenge.
The MillionHares have raised over £700 for Brixton based charity, Wheels for Wellbeing, beating their target of £500.