If you would like to join Wheels for Wellbeing's 'Zoom Social Chats' on Mondays at 11am, please email emma@wheelsforwellbeing.org.uk
We started this week's Social Chat by celebrating the 30th birthday of one of our regular Herne Hill participants. Happy birthday William, we all hope you had a lovely day!
One of our Cycling Instructors joined us with his daughter this week. The one advantage he has found from the lockdown is that he now has time to help her start cycling. She's not quite there yet, but she is only 3 years old! He has just got her a new bicycle though the 'Bike Club', which is a cycle subscription service (click here to read about the pros and cons of leasing a child's bike). There are also schemes like this for adults; if you're a Disabled cyclist, some London boroughs are included under the 'Try Before You Bike' scheme by Pedal My Wheels. It is worth consideration if the eye-wateringly high cost of an adapted cycle is an issue!
Some members of the Wheels for Wellbeing team recently attended these webinars about cycling during and after the COVID-19 outbreak: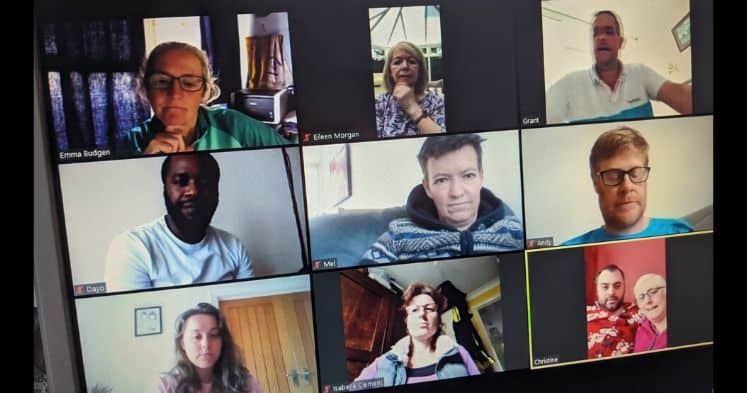 Let's talk about e-bikes…
Our Social Chats are becoming more campaign orientated as the weeks go by, with our most recent special guest being Eileen, a Disabled cyclist from Chester who is the Inclusive Cycling Officer for Chester Cycling Campaign! Excitingly, she is a e-bike cyclist!
This led to a discussion around e-bikes, and how many of our Inclusive Cycling Instructors and volunteers have overheard e-bike cyclists being described as 'cheating' or 'lazy'. However, Eileen is a great example of how e-bikes and e-trikes can enable Disabled people to enjoy social cycling with friends. Eileen describes her bike as her "mobility aid" (something that we're campaigning for the legal recognition of, via our flagship campaign 'My Cycle, My Mobility Aid'). She's even taken part in charity rides, which she wouldn't have been able to do on a standard, non-adapted bicycle: "I can get out and about and go places where my wheelchair can't take me."
Eileen explained that when choosing a cycle, there's a lot of thought that goes into it – such as what you will need it for, and which one would best suit your needs; she required a low step-through e-bike. The biggest drawback of e-bikes is the cost of buying, maintaining and insuring one (a common issue with non-standard cycles in general), so not getting the most suitable option for you could be a very costly mistake! They are also very heavy, and Eileen emphasized the importance of having e-bike training to allow the user to understand how e-bikes respond to certain situations. For example, when moving off on the e-bike, the power can make it surge forward very quickly, which can be incredibly dangerous at road junctions.
Wheels for Wellbeing's fleet doesn't have any two-wheeler e-bikes, although we do have a four-wheeler cycle on loan from 4Wieler. The team has discussed investing in a couple of two-wheeler e-bikes, but we aren't convinced about whether they're entirely suitable for use at our open cycling sessions, which tend to get very busy. E-bikes would however be an asset for participants who would like to cycle outside of our open sessions but need a little extra 'oomph', or like Eileen, wouldn't be able to cycle at all without one. What are your thoughts about e-bikes?
National Cycle Network (NCN)
You may have seen small blue signs with a number on it, like this one, on lamp posts: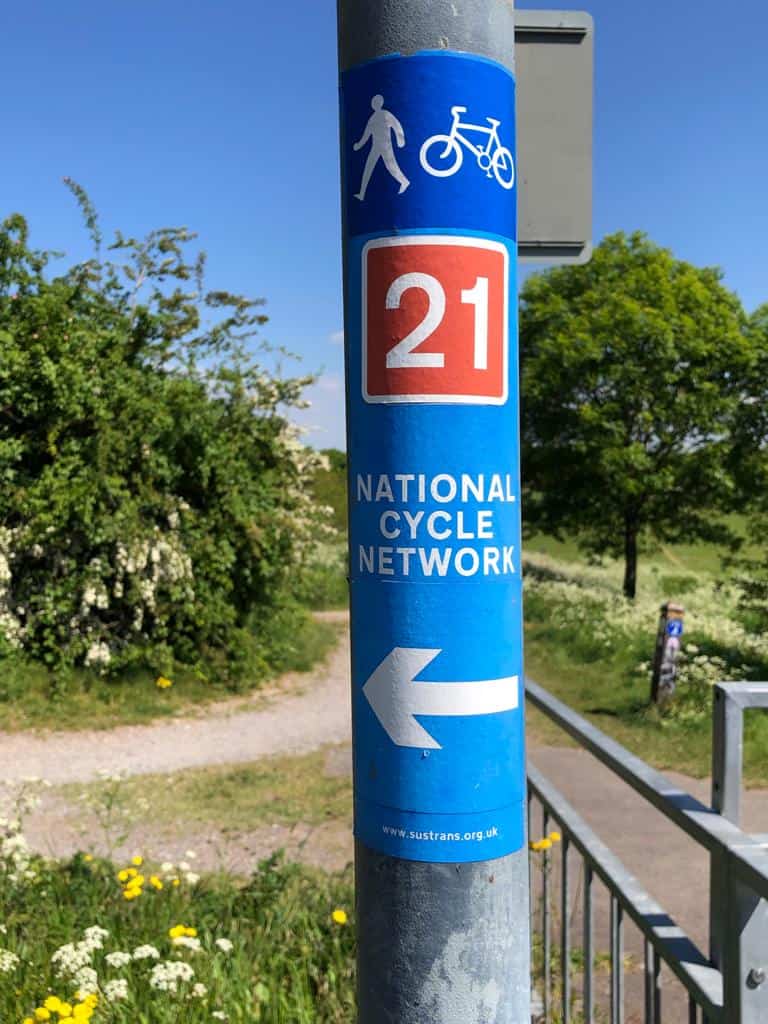 These numbers are National Cycle Network route markers, and indicate quieter routes for cyclists to take. The NCN is maintained by Sustrans volunteers, with the NCN 21 and Waterlink Way being the routes most commonly used by our Inclusive Cycling Instructors and volunteers.
Whilst the NCN is extensive, it possesses many barriers to Disabled cyclists. The length of the NCN 21 is from Greenwich to Eastbourne on the south coast, and has various problems with the terrain and physical infrastructure barriers – some of which are safety features to prevent cyclists from cycling off a cycleway straight into a road. You need to be quite a skilled mountain biker to get down a very steep hill on a narrow, rutted path in Woldingham (Surrey)! It is certainly unsuitable for tricycles, and many people without a Disability walk down instead! We and Eileen in Chester are working with Sustrans to make all NCN routes fully accessible.
Temporary walking and cycling infrastructure during COVID-19 lockdown
You may have noticed that "pop up" cycle lanes have been added, or that motorist "rat runs" have recently closed in your area. This is in response to the difficulties faced by people trying to social distance themselves in narrow or crowded public spaces when out and about.
You can find the details of planned changes to roads in the boroughs we deliver cycling sessions in here:
However, as an organisation we are concerned that the additional accessibility needs of Disabled people may not have been considered when introducing these measures. Please contact your local Council about any changes that do not look accessible. Alternatively, you could send the link to our 'Guide to Inclusive Cycling' to your borough's planning department.
Please do join us in next week's Social Chat if you can, there is no agenda and topics of conversation are decided by attendees!