Wheels for Wellbeing's inclusive cycle hire pilot is ready to roll!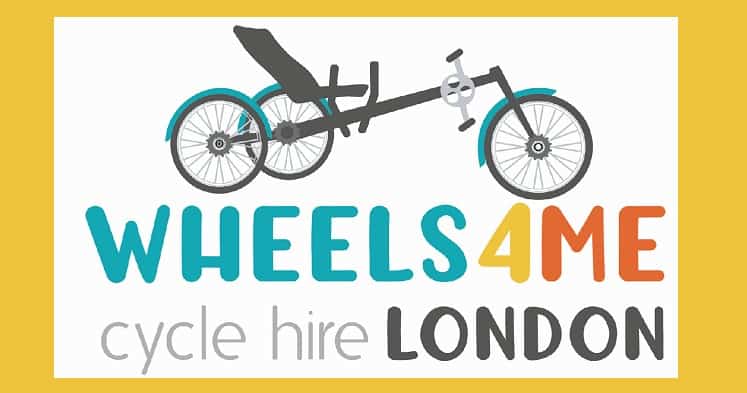 During last year's lockdown, options for Disabled people to enjoy healthy exercise outdoors were not equal to those for non-Disabled people. In fact, Disabled people were far more likely to be experiencing isolation and lacking opportunities to be active in fresh outdoor air.
While our regular sessions in south London were paused, we were able to loan a handful of cycles to individuals. From feedback and observation, we saw that a cycle hire for people to take non-standard cycles away to ride on their own terms, for fitness, to try commuting, to join family activities, or any other regular reason to cycle, would potentially make a real difference to individuals – whether in lockdown or out of it.
Excitingly, Sport England agreed and gave us some funding… and a few months later, we're ready to roll with our pilot!
---
A bespoke approach to cycle hire
Unlike standard cycle hire schemes, especially on-street 'bike share' schemes, our cycle hire is a little different.
We don't have hundreds of identical cycles parked across the city, but instead have a range of cycles – each selected to offer something specific and different from the others to reflect the diverse needs of Disabled people in London.
Our many cycles include tricycles, handcycles, companion cycles, cycles that carry wheelchairs, cycles for adults, cycles for children, and even cycles for adults and children together. We also have a range of helpful straps, grip aids, saddles, pedals and toe clips (after all, we did say "bespoke"!).
---
How will I know which cycle is for me?
Our staff have years of experience working with people of all kinds of ability and Disability. We will talk through what you need and aim to match you up.
If you're still not sure, then we run cycling sessions with a range of cycles for you to come along to and try a few out. (These sessions are held outdoors and are subject to COVID secure standards for handling and cleaning cycles. We have provided links to the cycling sessions at the bottom of this blog post.)
---
Where Wheels4Me is operating
To start the pilot, Wheels4Me will just be operating in south London, using Wheels for Wellbeing's cycles. However, in the not-too-distant future the scheme will be a partnership between Wheels for Wellbeing (mainly south London) and Bikeworks (mainly north/east London).
If you're anywhere in London, or if you are visiting London and would like to cycle while you're here, then you can hire a cycle from us.
You can also hire a cycle from us in order to take part in events outside of London, but you'll need to transport the cycle in and out of the city yourself – we can only supply within Greater London.
---
How will I know where to ride?
It's up to you! You can ride in a local park or quiet neighbourhood, or you can explore the city using London's cycle network. It's a good idea to do a little research and planning if you intend to head off somewhere new; even the most experienced riders do this.
You can also talk about where to ride when you collect the cycle from our member of staff (or when we deliver it to you), or with a mentor.
---
How Wheels4Me cycle hire works
If you have online access, then please fill in our online form (click here) to let us know what dates you would like to hire the cycle on, and to tell us as much as you know about the kind of cycle you'd like to hire (it doesn't matter if you're not sure). If you're not online, then you can call us on 020 7346 8482 to talk it through.
Next, we will check the dates and cycle availability, and then call you to confirm the booking and run through other details, such as cycle fitting, collection/delivery, your training needs (according to how you envisage using the cycle and your experience), and storage, if you're hiring for more than a day.
We will also offer you the chance to link up (virtually) with a Disabled mentor who is familiar with cycling, with whom you can discuss things that crop up during your hire period.
We will then make sure the cycle is ready, welcome you for your cycle fit, follow the plans we've agreed above, and remind the sun to shine!
---
Free to hirers who can help us in return!
Currently a pilot scheme, we are waiving the hire fees until the end of May 2021 (when our current funding ends). In return, we will be collecting your feedback about your experience of hiring from us. We want to hear about what went well and what we can do to make the scheme fully accessible. This will help us prove it can be done and share the concept with other cities and towns."
"Riding the Varna 2 Handcycle has really opened up my home environments to me. I've seen bits of my local area that I had no idea were there – even though I've lived here since 2010. I've also been able to connect different locations together and explore much more freely. Keeping fit with the handcycle and going on rides with my partner is much more exciting than working out from home, as I get to explore and learn at the same time as working my muscles." – Rick (Bromley, south London)
---
Could this be for you? Find out more and get in touch!
Wheels4Me London is coordinated by Wheels for Wellbeing.
t: 020 7346 8482 (Mon-Fri, 10am-3.30pm) – due to COVID we are working from home, so please leave your name and why you are calling, and your call will be forwarded to the Wheels4Me coordinator.
If you'd like to try cycling at one of the friendly supervised sessions first:
---