Wheels for Wellbeing continues to spread the word that Disabled people can and do cycle – this time discussing the topic with the wonderful crew over at BBC Sounds' Woman's Hour!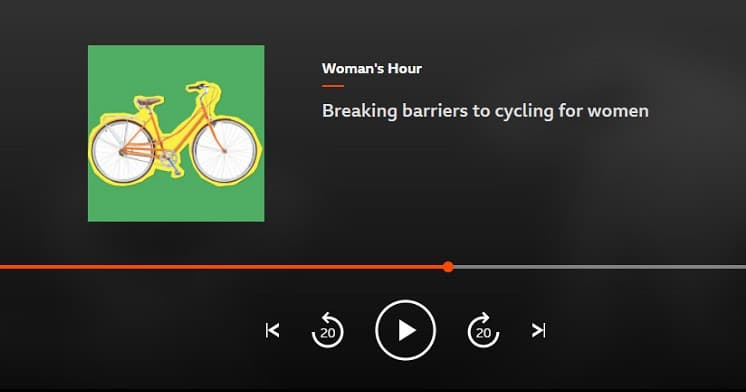 Titled 'Breaking barriers to cycling for women', the programme episode interviewed an array of individuals, groups and organisations based across England, from Nottingham to our very own Herne Hill Velodrome hub in south London.
Disability Affairs reporter Carolyn Atkinson also talked to some of our participants, including handcyclist (and former WfW Chair of Trustees) Nicky Parry. After explaining how the cycle operates, Nicki told Carolyn: "Cycling has opened up so many avenues for me…you know, things are possible, despite [having] a Disability."
Carolyn also chatted to Lucy, another participant who has recently re-discovered cycling following a stroke 15 years ago, which had left her no longer able to cycle on 2-wheels due to balance issues. It all changed for Lucy when she found Wheels for Wellbeing and the joy of recumbent trikes last summer: "I find it's totally liberating, I feel totally independent being able to cycle."
After speaking to Lucy, Carolyn chatted whilst jogging alongside Amelia, a visually impaired cyclist who was attending her very first Wheels for Wellbeing session at the time. As Amelia put it plainly: "Just because you have a visual impairment doesn't mean you can't ride a bike."
The episode really highlighted how cycling at the Velodrome is a fantastic option for Disabled people: after all, it's a safe, wide track in a traffic-free environment. But what about the people who would like to cycle to get from A to B, such as through local town centres, to get to the shops or to accompany the kids to school? That's when Carolyn spoke to our Director, Isabelle Clement MBE, about the need to build accessible cycling infrastructure and how we're working alongside town and transport planners, and 're-educating the cycling world'.
You can listen to the 44-minute-long episode here (featuring Wheels for Wellbeing at 21'45)!