My name is Shane Booth and I'm a 46-year-old Disabled brain injury survivor.
On 5th August 2009, I was involved in a severe motorbike accident in Baden-Baden, Germany. The accident left me fighting for my life, with several broken limbs and a traumatic brain injury. I was unable to speak for 3 months and have ultimately been left with a Disability.
Fast forward a little over 11 years, and I've recovered in the sense that I've been able to return to cycling on my recumbent trike whilst also becoming a public speaker (that is, until COVID-19 rocked the world!).
Since returning to cycling, I've created and have achieved some pretty spectacular goals alongside my brother-in-law and heart attack survivor Ian Richard Sanders.
These goals so far include:
Cycling from Morecambe coast to Scarborough coast, completing the 140 miles in just 3 days.
Cycling from Alvechurch in the Midlands, down through Wales and finally arriving 123.3 miles later in the coastal town of Aberystwyth – all in 2 days.
On Monday 26th October 2020, Ian and I drove to Devon and cycled from Ilfracombe to Plymouth in 2 days.
On Sunday 20th December, we were driven to Whitehaven, ready for our third and final coast-to-coast challenge of 2020, cycling 137 miles to Whitley Bay, Tyneside in 2 days.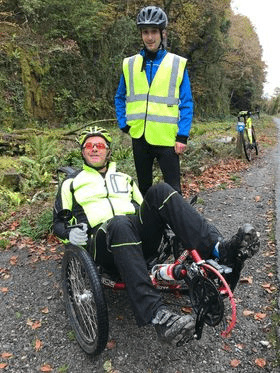 My future goals include:
Sometime in March 2021, we will be cycling roughly 90 miles from where I live in the Midlands, down to London.
On Sunday 16th May 2021, we will be taking on the Royal British Legion Poppy Ride around Cannock (click here to visit my fundraising page). There are 3 distances to choose from, and we have chosen to take on the longest distance of 137km (this is equivalent to the longest day of the iconic London to Paris cycle ride!)
In July 2021, we will be cycling from Land's End to John o' Groats (LEGOG). The route we've planned is 937 miles across some beautiful, picturesque Scottish and English countryside.
I will also be returning to competitive cycling this year. I did aspire to qualify for the 2024 Paralympic Games in Paris, but recently learned that my recumbent trike isn't supported at this level of competition.
There will certainly be more goals as we get further into 2021, but I think the ones I've set for myself so far are enough to be getting on with for now!