Wheels for Wellbeing's response to the Covid-19 virus situation (last updated Friday 27th March 2020)
We are very sorry to confirm that we are cancelling all our timetabled cycling sessions until further notice. This is in response to global public health advice regarding the new Coronavirus (Covid-19). 
We're doing this with a heavy heart as we understand how important it is to cycle and to meet up with others, and for everybody to have enjoyable exercise in the fresh air. But we all need to do our bit to avoid non-essential travel and contacts, to slow the spread of the virus and to support the health and safety of our participants, staff and volunteers and the wider public. 
We will not be running any of our regular drop-in sessions at Herne Hill Velodrome, Croydon Sports Arena or Ladywell Day Centre until further notice, and we will not be running any sessions during the Easter Holidays unless Government advice changes. We are also cancelling all other additional and private sessions.
Our work isn't stopping entirely, of course! Although all members of the Wheels for Wellbeing team are now working from home (so the best way to contact us is to email info@wheelsforwellbeing.org.uk), we are still in contact with one another, with team meetings taking place every Wednesday. Here is our Director Isabelle working from home!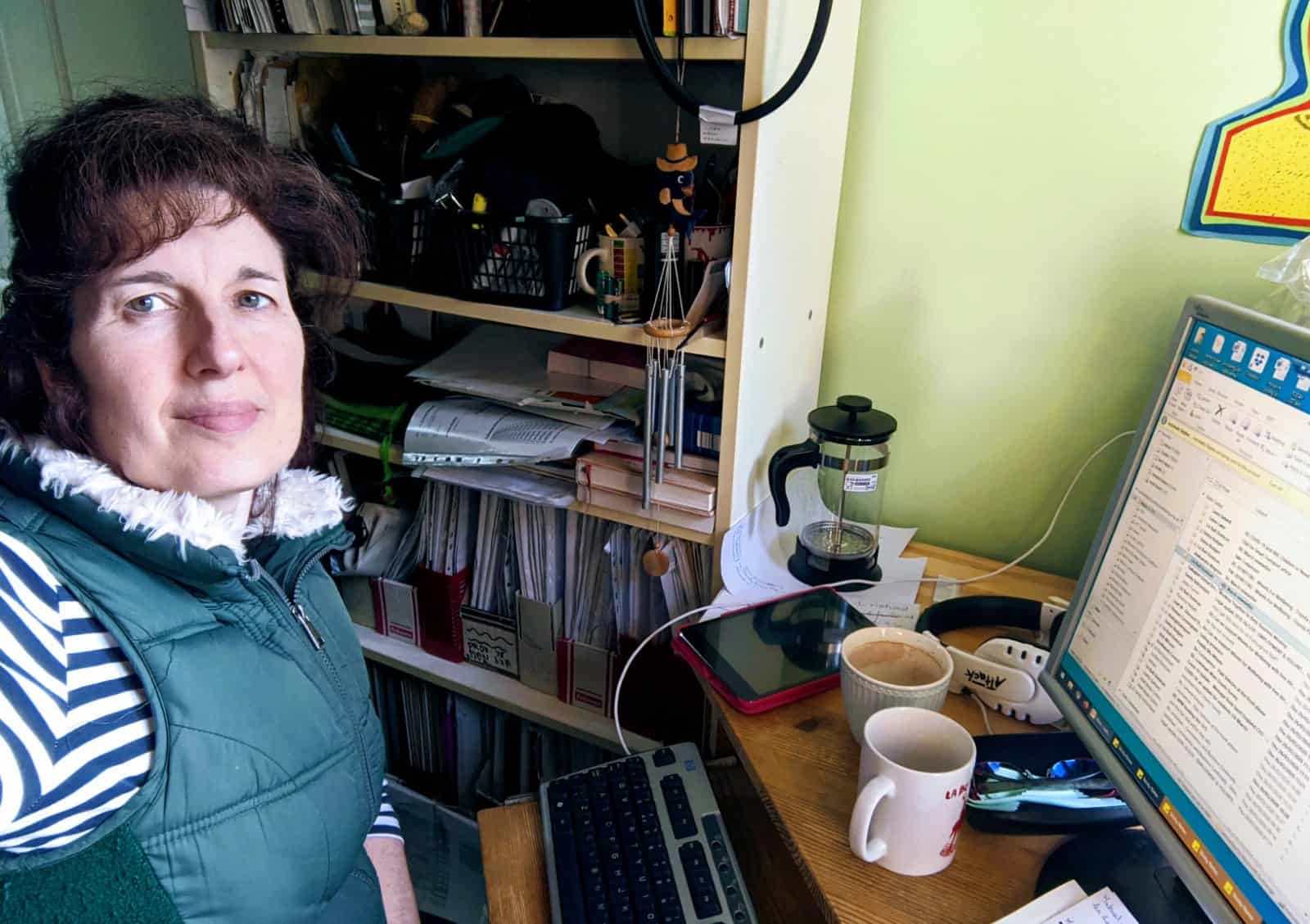 We are currently exploring the possibility of loaning some of our cycles to some groups, individuals or families. Please get in touch if you are interested in borrowing one of our cycles. You would need to have somewhere to store the cycle securely, be able to insure and keep it maintained for the duration of the loan. We are also in contact with Lewisham Council, discussing how we can support their efforts in reaching out and helping isolated residents. We hope to share some ideas to keep fit and cheerful at home; you can find us on Instagram, Twitter or Facebook @Wheels4Well.
We will also continue connecting with Disabled cyclists to ensure their voices are heard by politicians and other decision makers so that cycling conditions improve for everyone. 
If you are interested in booking a session for a group when this unusual situation is over, please contact us. We will get back in touch as soon as we are able to start planning the re-opening of our face-to-face activities
We will keep the situation under constant review and will issue further statements as soon as anything changes.
With very warmest wishes and dreams of happy cycling!
From all at Wheels for Wellbeing