Wheels for Wellbeing is offering a cycle hire scheme for participants until the sessions restart. If you would like to find out more, please contact info@wheelsforwellbeing.org.uk
Rafferty attended one of our Kids on Wheels sessions back in March and enjoyed it so much. As these sessions have now been postponed until further notice, Rafferty's dad contacted Wheels for Wellbeing to make the most out of our cycle hire scheme!
Where abouts has Rafferty been cycling during lockdown?
Rafferty has mostly cycled to two of our local parks, and when he first had the trike during lockdown and traffic was even quieter he cycled around some quiet local streets with me jogging alongside. His favourite park is Milkwood Park – not a very exciting "open space", but it's rarely visited and also has some good flat circuits that with a trike make some amends for the playground being shut.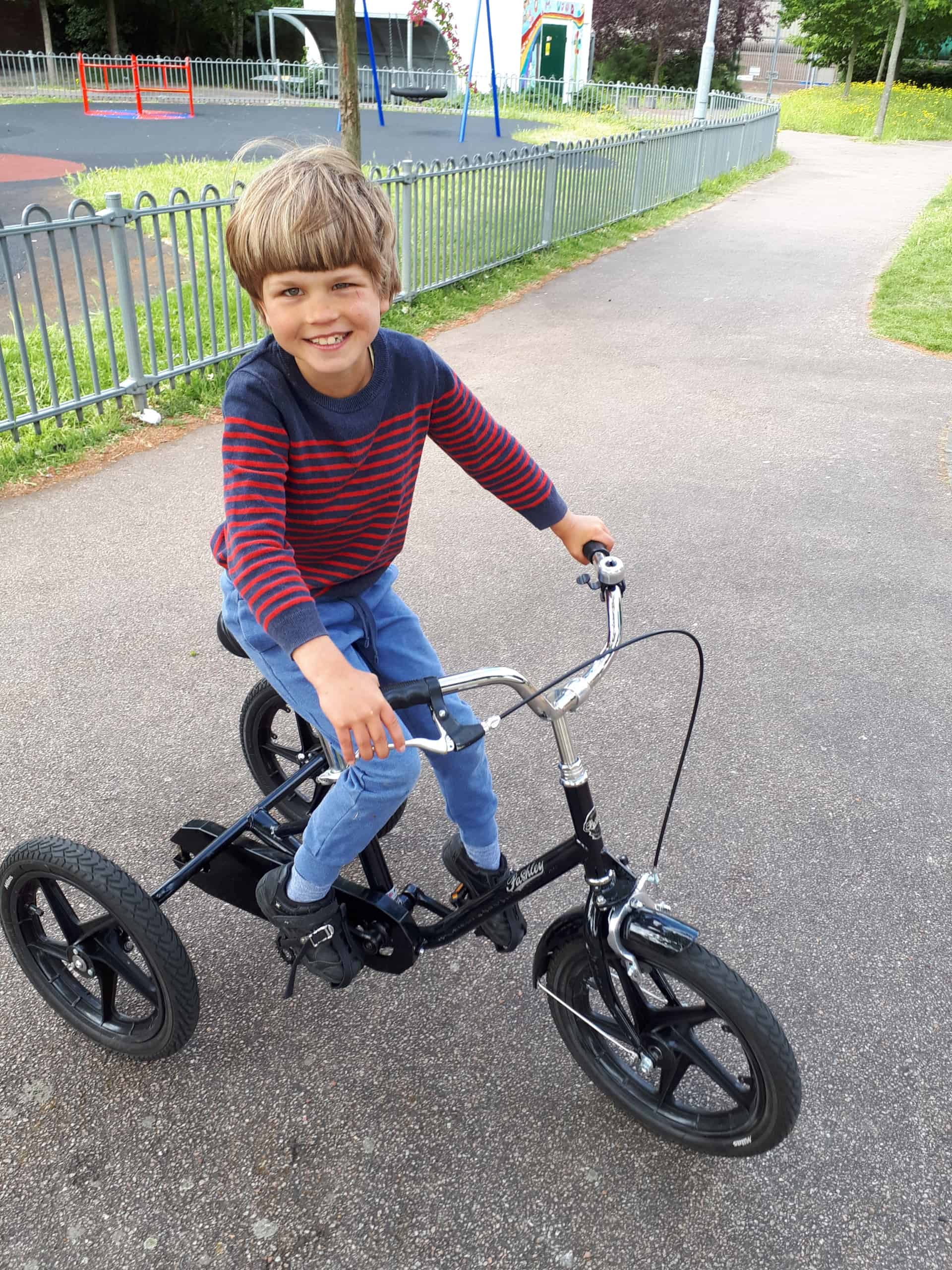 Why is it important for Rafferty to keep cycling whilst the Wheels for Wellbeing sessions have been postponed?
Rafferty went cycling every day for the first two weeks, and still cycles most days. This is his first wheeled fun and he's really got to grips with it – putting his own feet in the clips really made him take off independently. It's really important for his neurodegenerative condition (one of the symptoms of which is paraplegic spasticity) to get lots of exercise; his lower limbs especially need a good workout.
A static bike setup never appealed to Rafferty, but the freedom he gets with the trike really motivates him. It also complements running and trampolining in strengthening his legs and maintaining neurones. He has coordination challenges, so being able to go backwards with the fixie has helped him get out of some tricky corners. Perhaps the best thing is after struggling with scooters and any combination of stabilisers on bikes, he finally has a vehicle on which he can race with other kids. With social distancing in force, zooming around on wheels is one of the few things that has some distancing built in.