Paul, who lives in Liverpool and works for the local authority as a Leaving Care Personal Advisor, recently got in touch to tell us about how he had successfully campaigned to get paid cycling mileage for his work journeys.
Paul's job involves completing a number of in-work journeys every week to visit young people and support them with their wellbeing, progress and goals. Paul says "As a non-driver this means I complete my visits by cycling, walking, and using public transport, which boosts my wellbeing at work because of the additional opportunities to embrace fresh air, enjoy safe and scenic routes, and limit my exposure to congestion and pollution."
Paul in front of the Liver Building and by the mersey.
"If I visited young people by bus I could claim reimbursement through the expenses policy and I would also receive mileage if I learnt to drive and bought a car to travel to visits. However, when I began to cycle for my visits I did not receive any reimbursement towards the wear and tear on my bike. I contacted Human Resources and they informed me there was no cycling mileage policy."
Not satisfied with this response Paul set about doing some research as to which local authorities paid cycling mileage and how much they reimbursed. The results paint and interesting picture. The vast majority of the English local authorities who responded (50/57) paid cycling mileage, but there was huge variation in the rates. For example: Newcastle pay 20p per mile, whereas Torbay pay 40p per mile; Derby pay 15p per mile, plus 75p per day, whereas Suffolk pay £2 per day. Lambeth pay a monthly allowance of £25, whereas Bury pay a yearly allowance of £107.13. Norwich pay the same rate to cyclists as they do to drivers, whereas the Royal Borough of Kensington and Chelsea pay 65p per mile for the first 8,500 miles and 16.4p afterwards.
Paul also contacted a local councillor who raised the issue of cycling mileage at the next council meeting. Paul felt the issue was especially important given than the local authority had declared a climate emergency alongside a goal of becoming net zero by 2030. The Mayor responded positively and the local authority now pays 20p per mile for in-work cycle journeys.
News of the scheme spread quickly and inspired one of Paul's colleagues to leave his car behind in October and join Paul travelling to visit their young people in Manchester by a combination of cycle and train. However, there have been a few "teething problems" with the system for claiming the reimbursement which meant Paul's allowance for cycling a total of 226 miles in August, September and October didn't go in his November pay. Paul said, "Hopefully this will go in my Christmas pay so I can buy a new tyre and foot pump for the New Year."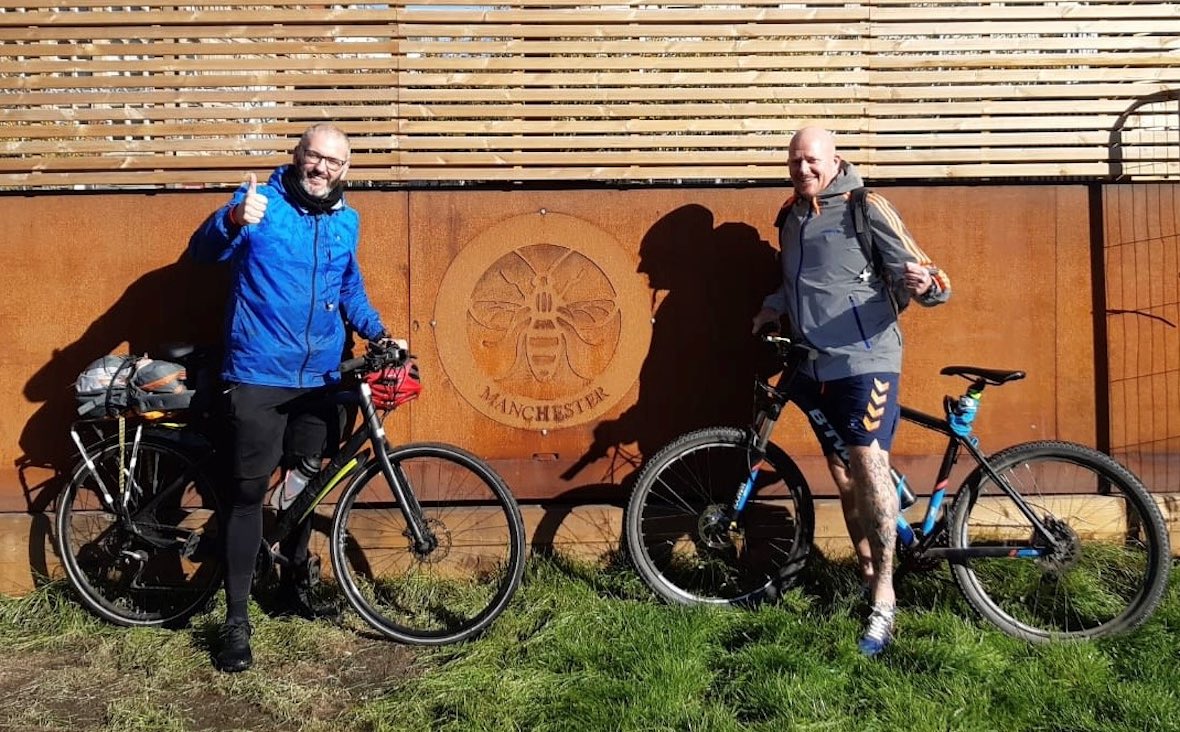 Paul and colleague in Manchester.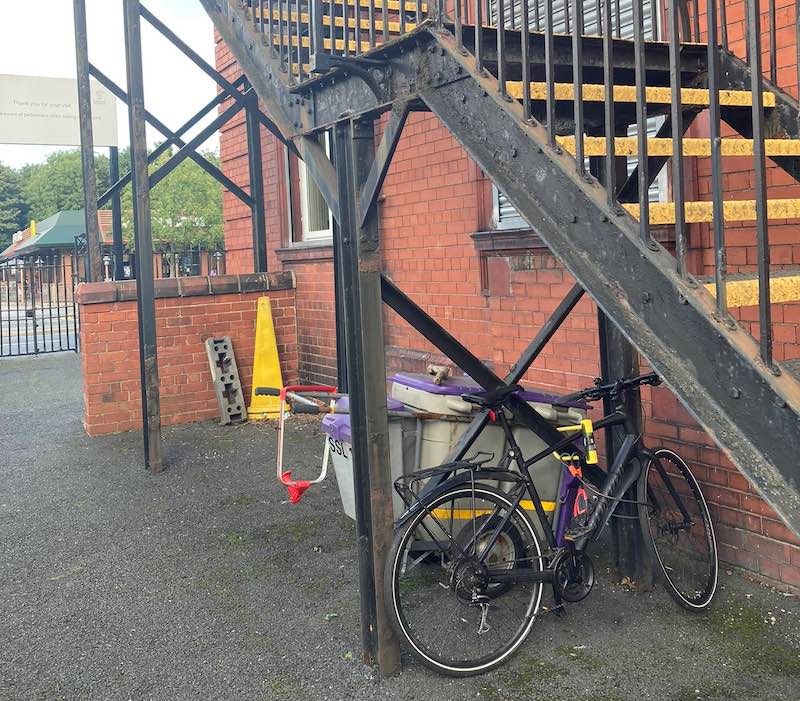 Following his success Paul is keen to see how other schemes and provisions could encourage more cycling for work journeys, these include "improved cycle parking, staff storage and wash facilities to make cycling for work more practical and appealing – in contrast to my current situation of struggling to carry spare clothes around with me, not having the option of showering on arrival, and having to lock my cycle underneath the fire escape steps!"
Paul would also like to see cycle taster sessions to enable staff experience the full range of inclusive cycles available, information about how to purchase cycles through the Cycle to Work scheme, and information about registering with the national cycle database, BikeRegister.
Overall, Paul is delighted with the outcome of his campaign, not just in terms of provision for cycling at work but also because, "This good news will also enable me to highlight to the young people I support how embracing democracy can achieve solutions to issues in their lives."
We will be keeping in touch with Paul and look forward to hearing about his next success!