I initially heard about accessible cycling through an email from DASL (Disability Advice Service Lambeth). They mentioned Wheels for Wellbeing's cycling sessions at the Herne Hill Velodrome, and my curiosity led me to register and visit the Velodrome weekly, doing circuits on the flat track.
The realisation of how important cycling was to me, hit home when I had a double-bereavement in January. Attending the sessions at the Velodrome honestly saved me from Depression. I was still grieving, but being able to maintain my weekly cycle sessions stabilised me considerably. But it's so much more than just getting me through periods of grief. Cycling is indescribably relaxing, exhilarating and freeing. It is also the perfect opportunity for reflection. You are fully focused on the road, but you can reflect, problem solve, and have a solution, in the time it takes to reach your destination. Cycling helps my mental and physical health. I'm classified as an "uncontrolled Epileptic", but I no longer have as many seizures as I did prior to cycling. As a wonderful domino effect, I spend less time recovering, and have more time for cycling!
One day Emma (a session leader) asked if I wanted to join her on a "led ride" on the road. Going on the ride made me realise I was ready to cycle independently, not just at the Velodrome. Except I didn't have my own cycle. Accessible cycle rentals were not readily available, and I could not afford to buy my own trike or recumbent, as they cost a minimum of £3000, and an average of £4000.
Later, when Wheels for Wellbeing were piloting their cycle hire scheme (Wheels4Me), I jumped at the opportunity! My trike hire began perhaps three months ago. The trike I was offered is not ideally suited to my needs – I would much rather have a recumbent trike – but I still accepted it. I wanted and needed to be cycling, as I had experienced the benefits first hand.
My independent cycling journey started with baby-steps – I went from home to church, one pedal-stroke at a time. I was quite scared on the road, thinking "Oh dear, how am I going to manage with all those intimidating cars and trucks". The intolerant and impatient drivers would constantly beep or overtake too fast and too close, which really shook me. I had to pull over, focus on my breathing, and give myself time to calm down before I could continue on my journey. My cycling peer mentor (organised as part of the pilot) told me that I had as much right, as the drivers, on the road. But how could I communicate with drivers, letting them know that I'm Epileptic, so they could treat me kindly, without keeping their hands on their horns, and overcrowding me?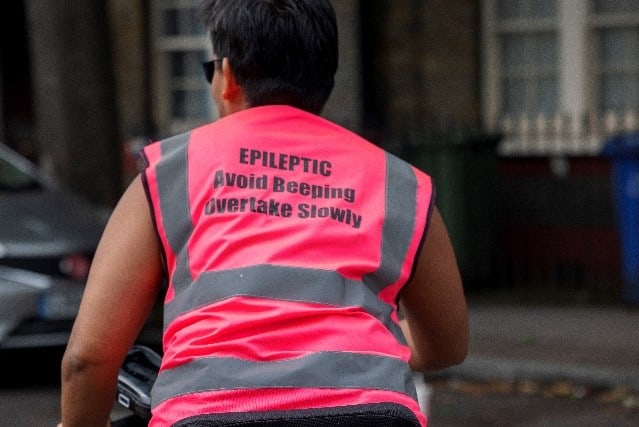 So . . . Hello online shopping! I personalised a high-vis vest to read, "Epileptic Cyclist" at the front, and "Epileptic. Avoid beeping. Overtake slowly" on the back. If I hear a car coming, I wave them forward with my hand, or if there are lots of cars and I know I'm cycling rather slowly, I pull over to let them pass. The drivers are [for the most part] reading my high-vis, as the beeping has stopped, and I am given a wide berth.
I'm much more confident now, as I know I am equally entitled to use the road, and others simply need to be patient with me. The journey to church initially took me 20 minutes, but now I can manage it in less than 10. What a sense of achievement! I cycle everywhere: to Clapham, Southbank, Guys Hospital, even Ladywell. It is such a wonderful feeling to know that I if need to go somewhere, I no longer need to check the time of the next bus, I can just get on my trike and go. If there were more trikes and other cycles on the road, and people felt as comfortable on the road as I do, and realised that cyclists have equal right to the road [as drivers], then cycling would be fully accessible.
Parking is such a problem though! When I cycle to church, I take it inside and drape my high-vis over the handlebars, so everyone knows why it is parked inside. At Guy's Hospital there is nowhere near enough bike racks, and because of the size of the trike they can only be parked at the end racks. Once I arrived and there was nowhere to park, so I had to either go in with my trike or go home. I entered with a knot in my stomach, but staff simply pointed me in the right direction! Would I stumble at the next step? I took the elevator and parked the trike at reception for my appointment, without being asked to take my trike outside! If only everyone could be so accommodating! My Neurologist even took photos of my hi-vis to present at his talks.
My love of cycling trumps all the barriers I face. Cycling gives me an immense sense of freedom, I have the confidence to interact with traffic, I know my trike well, and all journeys double as exercise. It's like a Disney effect: you feel as if you are flying! I only wish there were more of us doing it.