Tom is a freelance marketing consultant with Masters degrees in Law and Psychology. He's also a former GB professional para cyclist.
On this episode of the My Cycle My Mobility Aid blog and podcast, Tom talks about how he discovered cycling – and all the enjoyment and health benefits it's brought him since.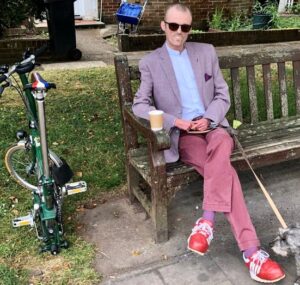 It started with a search for an alternative to running:
Tom's medical condition, MDP syndrome, was making running extremely painful. But he loved the feel-good hormones from endurance sport. Cycling was a much less painful option – which he took to the highest levels!
Despite being a former pro cyclist, Tom finds riding in ordinary clothes most convenient these days:
"I typically just use my normal trainers, rather than what I used previously, which is obviously the clipless pedals that you can clip into."
Tom explained that trainers are not only more comfortable – they're also much more convenient once he gets to a destination, as they're easier to walk in than slippery-soled cycling shoes.
Having a whole range of mobility options available works well for Tom:
He sees his standard bicycle as a good alternative to his wheelchair or car for many journeys:
"On a practical basis and on a pain basis- and simply on a time efficiency basis, the bicycle is so much better. I get the kind of pain reduction of using a wheeled contraption. But the benefits of the bicycle over the wheelchair are that it's narrower, I don't need a car to get to the stop point, if you like. My range is massively increased using a bike over using a wheelchair. As much as I like using the wheelchair, I don't feel the wind through my hair, and feel my soul lifted with joy in a way that I do on a bicycle."
Brompton bikes are a real favourite for their flexibility and practicality:
It's got the range of a bigger cycle – but folds away conveniently and can be used as a seat: What's not to like?
"The Brompton is just wonderful, genuinely wonderful. It's just the mobility aid par excellence that I feel sure many people would really benefit from".
Tom would love to see cycles and e-cycles including Bromptons available via Motability.
But barriers that stop Disabled people from using safe cycling paths really frustrate Tom:
"They're not like Popeye, and they can just knock back a tin of spinach and then all of a sudden, 'I can push the two bollards to the side, and then I can wheel my trike through the middle of it'. Because it's so narrow that you know, you can't get a racing snake through it. So obstructions on cycle routes are complete waste of everybody's time.
As a first step towards improving Disabled access to active travel, Tom wants to see cycles recognised as mobility aids:
"The first thing is getting, on a legislative basis, bicycles to be recognised as mobility aids, so that disabled people can ride them, even where it says, dismount from your cycle, no cycling. I'm not cycling as such. I'm wheeling: I'm pedaling at practically walking speed here. So, you know, what's the issue really?"
You can listen to the whole of Tom's episode – and to the rest of our fortnightly My Cycle My Mobility Aid podcast series as well on our My Cycle My Mobility Aid podcast channel, or download the transcript. We have campaigning resources and support available via our website at www.wheelsforwellbeing.org.uk , too.
If you would like more information or to share your story for our campaign please contact Kate@wheelsforwellbeing.org.uk