A couple of weeks ago, Debbie, our Wheels4Me co-ordinator, and Heidi, one of our Campaigns and Policy Officers, made a daytrip to the National Archives at Kew to collect two tricycles. Quite why there were two Mission e-trikes at the National Archives – a depository of over 11 million government records, reaching as far back as the Doomsday Book (1086 CE) and stored on over 185km of shelves – was somewhat of a mystery to us, but we agreed to have a look. We had been told that they might need a little bit of attention to make them fully roadworthy, but they were ours if we wanted them.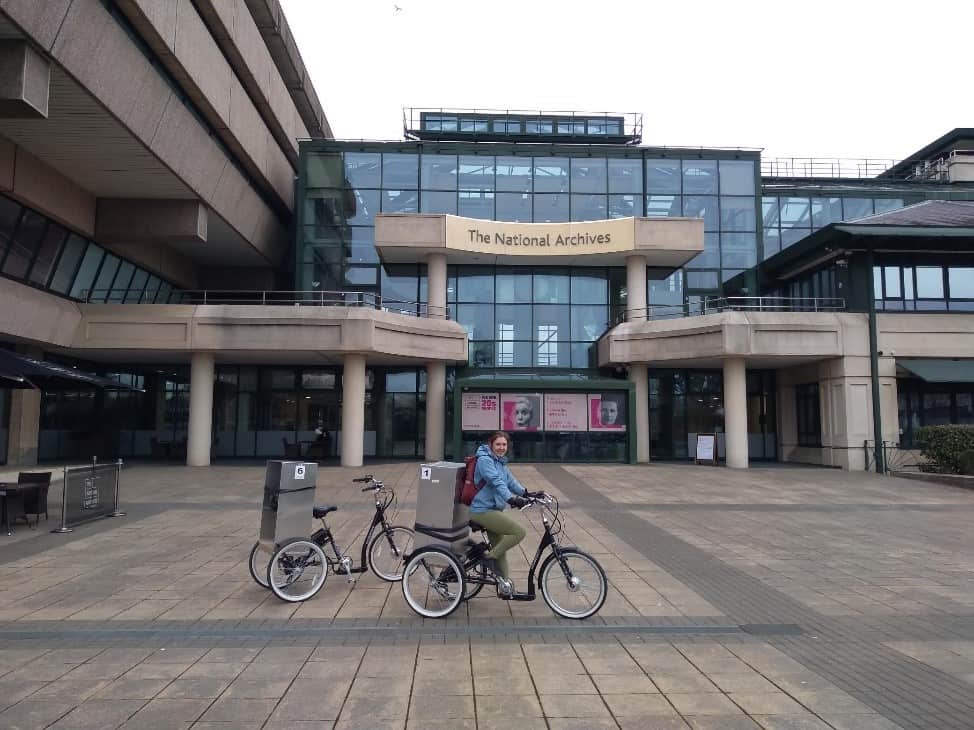 It turned out the trikes were a pair of Mission e-trikes. Aside from six flat tyres, one flat battery, and a pedal crank that needed a little attention, they were in very good condition. They had never been ridden on the road, but each trike had a large metal box on the back with an internal shelf – a bit like a filing cabinet without drawers.
They had evidently been well-loved by staff who named them 'Colin' and 'Vengeful Spirit'. If the National Archives didn't want them, we were definitely going to accept them as a donation to our inclusive cycle sessions and cycle hire!
Having gratefully accepted the trikes, we needed to find a way of getting them over to Ladywell Day Centre. Two trikes, two riders, a station within rideable distance, no problem. Apart from six flat tyres!
Luckily, the National Archives is next to a retail park, which even more fortunately had a Sports Direct, which just happened to have three inner tubes in the correct size (and on sale for half price, as an added bonus). We quickly repaired one trike, which Debbie used to search further afield for more inner tubes. Once the second trike was fixed up, we were ready to go!
If you are only used to riding a two-wheeled bike, a three-wheeled trike is surprisingly difficult to get used to. It feels like they have a mind of their own, and that mind spends more time daydreaming than behaving consistently and predictably, which can be a little disconcerting at first.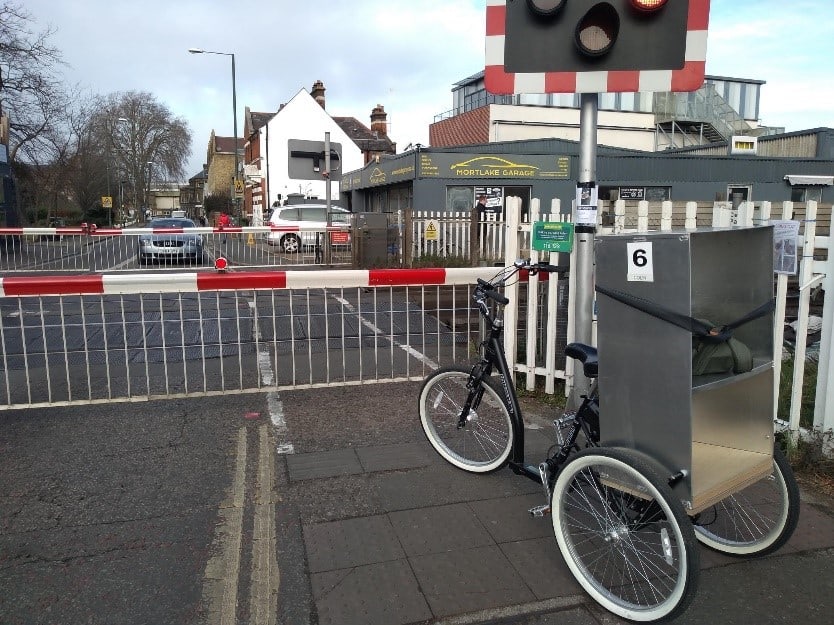 This is exacerbated whenever you meet an adverse camber: the trike starts to veer to one side, or the turning circle becomes much wider and unpredictable, so there were a few unexpected meetings with kerbs. And although these trikes were in very good condition, the lack of e-assist on one and the need for some crank servicing on the other meant that the speed was either 'very slow', 'slow', or 'suddenly faster than you expected'.
The route to nearest mainline station was via a busy A-road. Thankfully there was a lightly segregated cycle lane, although the adverse camber and the sections where the cycle lane was missing meant that we variously veered off into the kerb or edged slightly too close to the busy traffic.
Richmond Station has step free access, and the trikes were narrow enough to fit through the barriers. Getting them on to the train was a bit more of a challenge: the weight of each trike and the step up to the train meant that two people were needed to get them on board. Once on board, the two trikes occupied the whole of the vestibule by the doors. The other passengers were very forgiving and squeezed round the trikes or used a different set of doors, but had there been someone who had been less mobile, had a buggy, used a wheelchair, or had their own cycle, it would have been a problem.
At Waterloo Station we transferred to Waterloo East using the lift, then the train to Lewisham – another case of squeezing in with some uncomplaining passengers! Finally, a short ride from Lewisham to Ladywell Day Centre, mainly along residential roads where we could safely ride in the centre of the road, to avoid the camber. It was a bit of an adventure for a work day – but definitely more interesting than a typical day at the office!
With a little servicing, the trikes should go from "very good condition" to "excellent condition", and will be a welcome addition to our session or cycle hire fleet (although here in the Campaigns and Policy Team, we'd quite like to have one to take on tour, with the shelves at the back filled with leaflets and information on inclusive cycling). We're very grateful for the National Archives for donating Colin and Spirit to us – we promise we'll give them a good home!
Oh, and the mystery of why the National Archives had a fleet of e-trikes? With over 185km of shelving for their records, it's a lot easier to retrieve and return records using a trike – hence the set of shelving on the back of each one! A massive THANK YOU from Wheels for Wellbeing to everyone at the National Archives: the e-trikes will be a wonderful addition to our fleet, and we're really excited to share them with everyone at our sessions or through our cycle hire scheme!