During the Easter break some members of public were treated to the unusual site of ladies dressed as bunnies riding on cycles. But not the type of bunnies you might have in mind. These ladies were 'Breeze riders' – a female cycling group (of all ages), who decided to raise money and awareness for South London disability cycling charity Wheels for Wellbeing (WfW).
The Bunny Ride was the idea of WfW's Community Engagement Officer Abigail Trip. "The idea was to do something different over the holidays that would be fun, get people working together, talking and raising funds for us to continue to provide inclusive cycling sessions for those who often don't know that they can cycle," said Abigail.
The leader of the March Hares Bunny Ride, WfW cycling Instructor and Croydon resident, Deb Garbutt described the event.
"On Wednesday, we met at Waddon Ponds for the scenic route to Abbey Mills along the River Wandle. I'd already met up with fellow Breeze Champion, Ann Ferris, (who very rarely – if ever dresses up!!). But today, she was sporting a pair of grey & pink rabbit ears. We set off along the now well-known route, through mostly pathways and cycleways.
There were smiles from members of the public all along the route. We found the more mature folk were much more eager to support our cause and were readily donating. On the whole, people were very happy to see us – we brought a smile to their faces. Some comments were: "You've made my day", "You're the biggest bunny I've ever seen!" and "I'll put money into the pot just because of the effort you have gone to." Everyone enjoyed the ride.
On Friday, I cycled to Cater Park and met up with Ann again. I took an empty collection pot and started collecting on route to Cater Park. In all, seven ladies turned up – three with Bunny Ears, and one with silver balls… We rode to Greenwich to the amusement of the general public.
A bus drove past, as half the top deck rushed to the windows to wave madly at us. And as we were waiting to cross a busy junction several cars in succession hooted, waved and cheered us.
Most of the General public welcomed the themed ride, some gave more readily than others – some gave (they said) just because we'd dressed up!…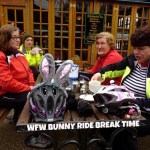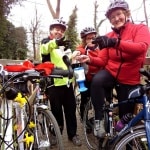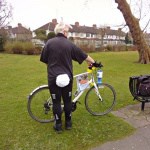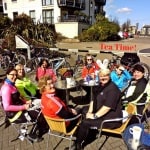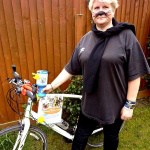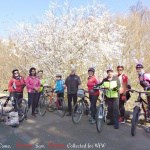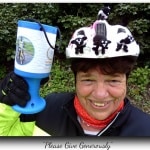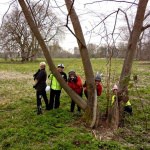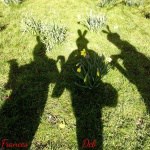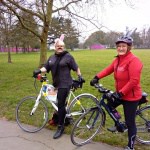 I think the sunshine really helped, as people were in a good mood. They listened to what we had said about Wheels for Wellbeing, gave their donations, and wished us well.
Once I'd left the group I saw two flower sellers at Beckenham Crematorium. I spotted one nudging the other, as if to say "Look at them cycling up the hill"
What a shock they received as I cycled right over to them and asked for a contribution – which I don't think they could even believe they were giving… ha ha ha ha…
Then The Albert pub had a bit of a crowd sitting in the afternoon sunshine – well, by this time I was a tired and most dishevelled, worn out Bunny. What did I have to lose, I said to myself? So, I approached them, and just as the words was leaving my mouth: "Please will any of you…" much to my surprise, I was counting £22 coins go into the pot!! I cycled the rest of the way home very happy at our achievements of the day.
And not surprisingly, a group of workmen in Catford jested, "Can I touch your tail Love?"
Other members of the March Hares, also commented on their experience of the Bunny Ride.
Brenda: "Sorry I forgot my ears. My dad had a bad nose bleed and in all the commotion I left them on the kitchen table"
Isabelle, (Brenda's daughter) said, "I loved the Chocolate," (which we gave to her) "and I loved wearing the spare ears."
"Do you know I haven't ridden a bike since last July 4th. I have really loved today's ride, it's been such fun and great to take part in such a good cause today. I do Love Breeze Ride's but riding with Debs dressed as a Bunny and others with ears has made it extra special. Especially as it cheered up a lot of people and gave them a reason to smile", said Posy.
"Do you know what I found myself singing on the way to the start? 'I'm late, I'm late for a very important date!' Then I realized how funny that was as I had Bunny ears on my helmet – like the Mad March Hare! Great ride though, very well done and such a good cause, glad to help," said Frances.
There was a lot of TOOTs, SMILEs and WAVEs – I thought it was a very good idea, very positive and made so many people laugh and smile, point and wave," said Jules.
"I was so gutted I had to miss Wednesday's ride, as I've really enjoyed this one and know I would have loved it," said Paula.
"I had a really, relaxing ride. What better way to spend a Good Friday than riding with such great people in the sunshine," said Smitta.
And as a couple strolled with their baby along the route, I asked them if they'd like to donate. They agreed and popped their coins in, but as I cycled away I heard the young lady shout: "What I'd really like, is to squeeze your tail!" So I waited – and she did!!