After seeing this latest (of several) fundraising challenge and battling to balance on a bike, Leigh recently hired one of our handcycles as part of our cycle hire scheme to do a 30 mile trip and raise £300 for Garden House Hospice as part of their Pedal for Pounds challenge.
Leigh is one of those people who puts others before himself "I do what I can do to help others [SIC] especially the little guys who have to raise their funds themselves" seeing the benefits his fundraising brings to the small charities he helps out is one of the things that keeps Leigh going. When he saw an event asking people to 'Pedal for Pounds' to support the charity Garden House Hospice Leigh immediately wanted to take up the challenge, even though he hadn't got on a cycle since he'd become an amputee.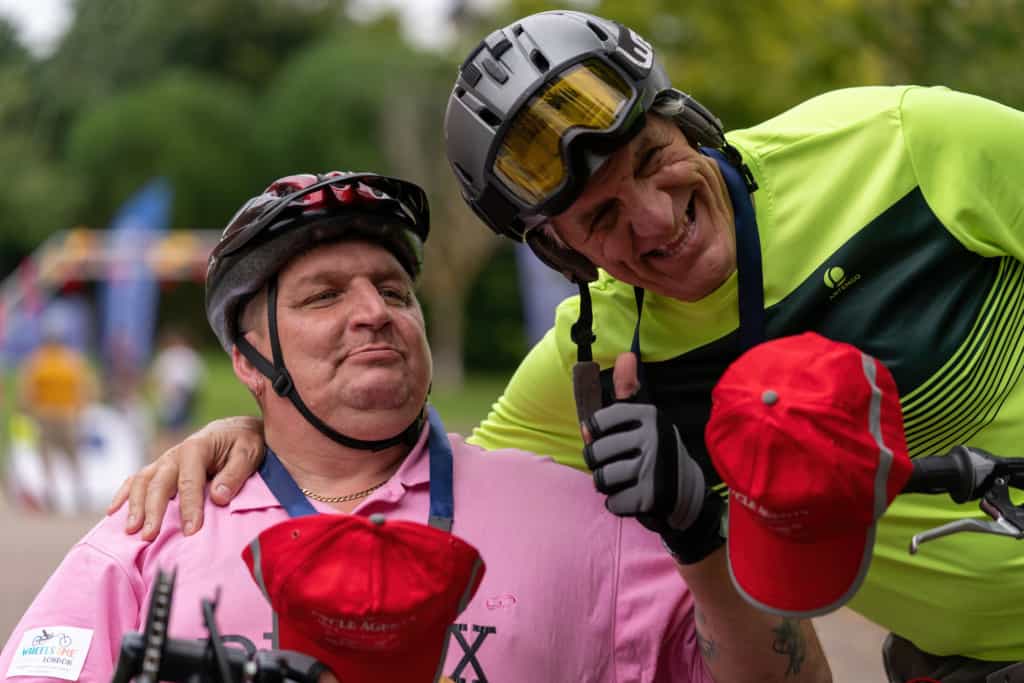 Initially asking the charity if he could do the 100-mile ride with an e-cycle and being denied that request, Leigh signed up for the 30-mile ride and borrowed a two-wheel bike to practice and train with. As a left leg amputee, he didn't know if he could ride a bike anymore but when he started around the local car park it seemed like things were going quite well and it wasn't as difficult as he first thought. He started fundraising for the ride and continued to practice in the car park but soon found that his left leg prosthesis kept slipping off the pedal. After some discussion with a local cycling store he attached a toe strap to the pedal and tried cycling with that. Unfortunately, although that helped initially when he "put a little umph into it" his prosthetic foot shifted and caught the crank. Leigh fell off the bike but the toe strap did its job keeping the prosthesis in place so the leg stayed attached and he grazed and damaged his stump.
A few years earlier during a different fundraising event, a sponsored 10k walk for Limbpower around the Stoke Mandeville track, Leigh had seen some people doing a cycling session on handcycles. So, when he realised he couldn't ride the bicycle as planned he rang Limpower to see if he could hire one of the handcycles he'd seen in use at that time. Even though they couldn't help him directly, Limpower put him in touch with us here at Wheels for Wellbeing and our Debbie helped him get a handcycle through our Cycle Hire Scheme.
Leigh met Debbie at our Croydon hub and she already had the handcycle waiting for him. After some chit chat while our team were getting it adjusted for him he took it for a test ride around the track and had a wonderful time. He could manage the gears easily and with a rolling start made it around the 400-meter track in 1 minute 47 which really pleased him. The handcycle proved to be a much better option for Leigh as having picked it up on the Friday morning he then did his fundraising route on the Sunday; managing the 30-mile trip and raising £300 for Garden House Hospice.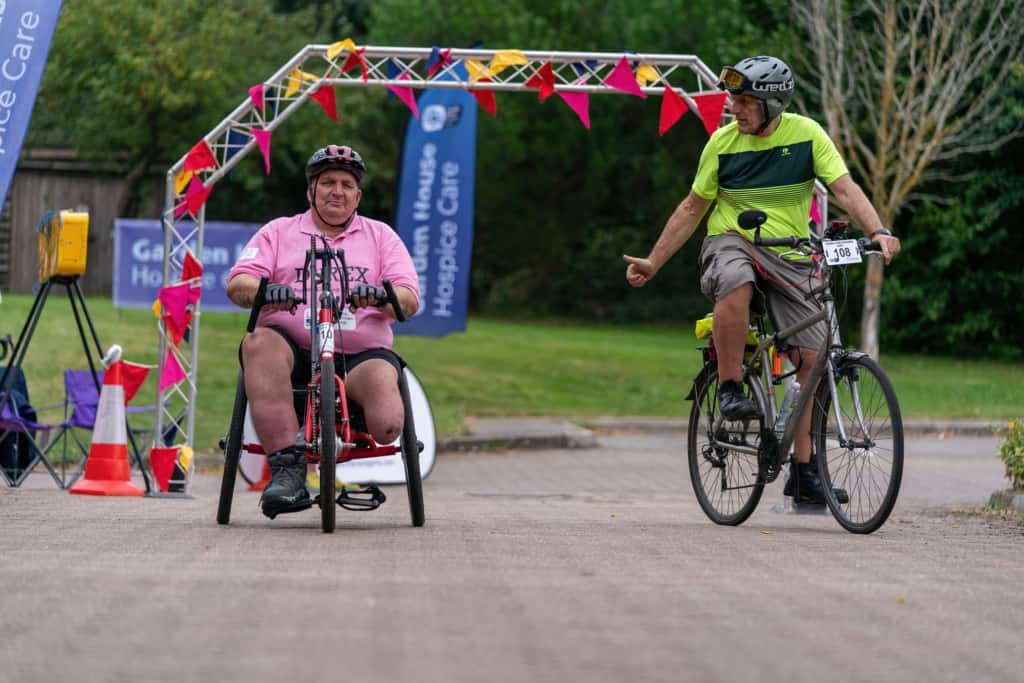 When asked how he felt about the experience of Handcycling and our hire process, since this was his first experience of cycling since his Disability, he said he "really enjoyed it and would love to cycle again". The volunteers at WfW were fantastic as they supported him in a caring and attentive way, and the benefit of course is that they are already so knowledgeable about how to help people with different Disabilities so it was easy for them to adapt things for him.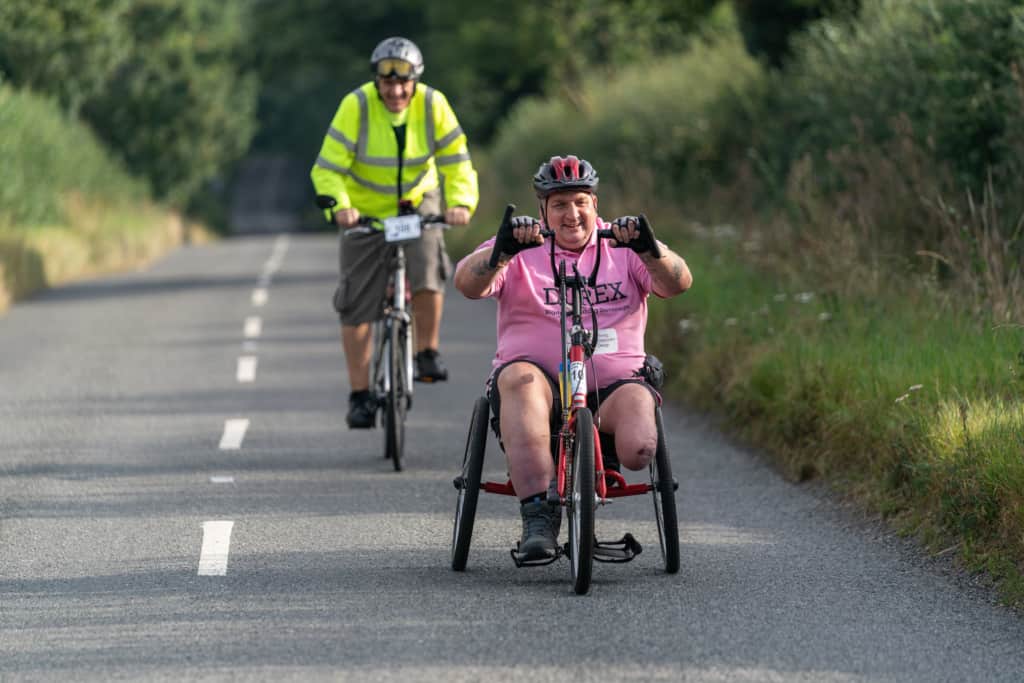 If he could have his own handcycle he'd love to do more, the best thing was the sense of freedom and the ability to get out into the countryside on the cycle, the most difficult thing was the very steep hills (where he had the assistance of a friend to manage) since handcycles get a bit stuck if the weight comes off the front wheel. The same barriers to cycling that many Disabled people have are also a problem for Leigh however, the extra costs of adapted cycles, storage for larger equipment, and Leigh lamented that there isn't more support for Disabled people to overcome these barriers yet. Happily, in the meantime our hire service is available for those who can get to one of our hubs, and there are inclusive cycle hire schemes popping up around the country from other providers too. As for Leigh, he is already looking ahead to his next fundraising adventure, he plans to try to walk or wheel over the O2 next so watch this space.

*All images courtesy of Garden House Hospice