"public transport n. transport available for public use; a transport system (of buses, trains, etc.) that runs on fixed routes at set times and may be used by anyone with a valid ticket or pass."
Oxford English Dictionary Online
Public transport is, nominally, available for anyone to use provided that they have the correct ticket or pass. However, it is not always accessible for those who want to use it, whether due to barriers to accessing timetables or buying tickets, inaccessible stations or bus stops, or inaccessible carriages and vehicles. The Department for Transport recently published their biannual Inclusive Strategy Scorecard, which assesses the use of public transport by Disabled people, so we thought this would be a good opportunity to look at the accessibility of public transport more closely.
Inclusive Strategy Scorecard
The Inclusive Strategy Scorecard forms part of the monitoring and evaluation of the Government's 2018 Inclusive Transport Strategy, which aims to achieve equal access to transport for Disabled people by 2030. The scorecard compares the number of journeys on different forms of public transport taken by Disabled people to the number taken by non-Disabled people, and measures the ease, confidence in, and affordability of journeys by public transport for Disabled people. It also includes the percentage of buses, taxis, and Private Hire Vehicles which are accessible for Disabled people.
According to the scorecard, in 2019-2020:
Disabled people took 27% fewer trips on public transport than non-Disabled people
5% of complaints made by bus passengers and 1.2% of complaints made by train passengers were related to accessibility
39% of buses on local services provided audible and visible information
The scorecard also gave the percentage of Disabled people who were satisfied with different public transport services as: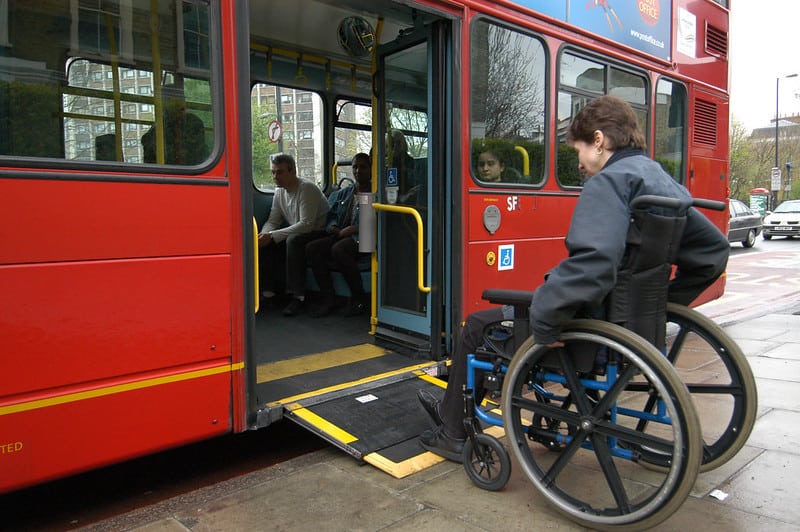 Bus journeys: 87%
Train journeys: 80%
Bus driver attitudes: 75%
Train crew attitudes: 67%
Passenger Assistance on trains: 86%
These statistics suggest that, while public transport is not equally accessible for Disabled people as non-Disabled people, satisfaction levels for the main forms of public transport is relatively high. However, the evidence provided by the scorecard isn't straightforward: it only measures the satisfaction of Disabled people who were able to use the bus or train, and not those for whom bus or train travel is so inaccessible and/or unsatisfactory that they cannot use these services. It is also unclear if or how the satisfaction levels of Disabled passengers were affected by their expectations for the services compared to non-Disabled passengers, or whether their levels of satisfaction were inherently linked to their experiences as a Disabled person. A Disabled person who expects to find it hard to board a train might not report low levels of satisfaction if they found a train hard to board: the journey met their expectations. Similarly, a Disabled person might express low levels of satisfaction with a bus service if the buses are frequently late, regardless of their ease of using the service once the bus arrives. The Inclusive Strategy Scorecard only gives a vague indication of the experience of Disabled passengers.
Other Evidence of Disabled Passengers' Experiences
Most Disabled people and their friends and relatives have anecdotal evidence of the frequent problems and barriers to using public transport as a Disabled person. Whether due to faulty ramps, passenger assistance not turning up, inaccessible stations or stops, or a lack of visual or audio information at stations or on carriages, many people have stories of difficult journeys caused by the lack of reasonable adjustments. Scope's 2019 Fair Travel report found that two thirds of Disabled people experienced problems using public transport in 2018-19, and 30% said that difficulties in using public transport reduced their independence. Four fifths said that they experienced some level of stress or anxiety when they travelled by public transport.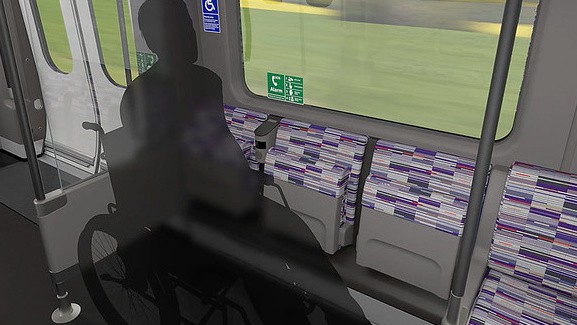 The difficulties with using public transport were exacerbated by the unreliability of services. Many Disabled people needed to plan their journey in advance to ensure that they would be able to complete it, but delays, changes en-route, or out-of-order infrastructure disrupted their plans. This could mean booked assistance not turning up, being stranded at inaccessible stations, longer journeys becoming physically uncomfortable or disorientating, or not being able to access information about changes due to a lack of audio-visual announcements. Many Disabled people said they relied on other people to complete their journeys, preventing them from being able to travel independently.
However, these difficulties in travelling are unlikely to be reflected in passenger feedback. The complexity of complaints procedures and a lack of confidence that complaining would result in any changes means that many Disabled people chose not to complain.
Scope's research suggests that the Inclusive Strategy Scorecard is not an accurate measure of the ease of access or confidence of Disabled passengers on public transport, and that a considerable amount of work is needed to ensure that all public transport services are reliably fully accessible for all Disabled people. Scope has asked the Government and transport providers to make public transport more accessible by:
Providing a Passenger Charter, giving Disabled passengers clarity about their rights and what to expect
Establishing a single transport regulator to improve accountability across services and providers
Enforcing existing regulations
Providing a more consistent approach to staff training, including user-led Disability Equality Training
Using new technology and open data to make it easier for Disabled passengers to access reliable information across all transport modes
We agree that greater clarity, accountability, and consistency of standards across public transport would improve access to public transport for Disabled people, but fundamentally what we need is a fully accessible transport system that allows disabled people to travel with the same choices, ease, comfort and efficiency as everyone else.
Images in this blog were provided through TFL – all rights reserved