For many wheelchair users, streets and cycle-lanes can be as rugged and bumpy as an off-road track – especially in cities with cobbled streets, such as Chester. Everyday wheelchairs and even standard active wheelchairs don't cushion the bumps and bounces of cobbles and potholes, and can't cope with off-road tracks in green spaces and rural areas.
Eileen, the Inclusive Cycling Officer for Chester Cycling Campaign, decided to turn this problem on its head. If streets and tracks are too uneven for an everyday wheelchair, could a wheelchair designed for more rugged, mountainous terrain be the solution?
Eileen first encountered Mountain Trike when searching for a wheelchair with suspension she could use to traverse the cobbled and uneven streets around her home. "I'd never thought about [Mountain Trikes] before, and then watched the video of the man who climbed Kilimanjaro [in one] and [their pitch on] Dragons' Den."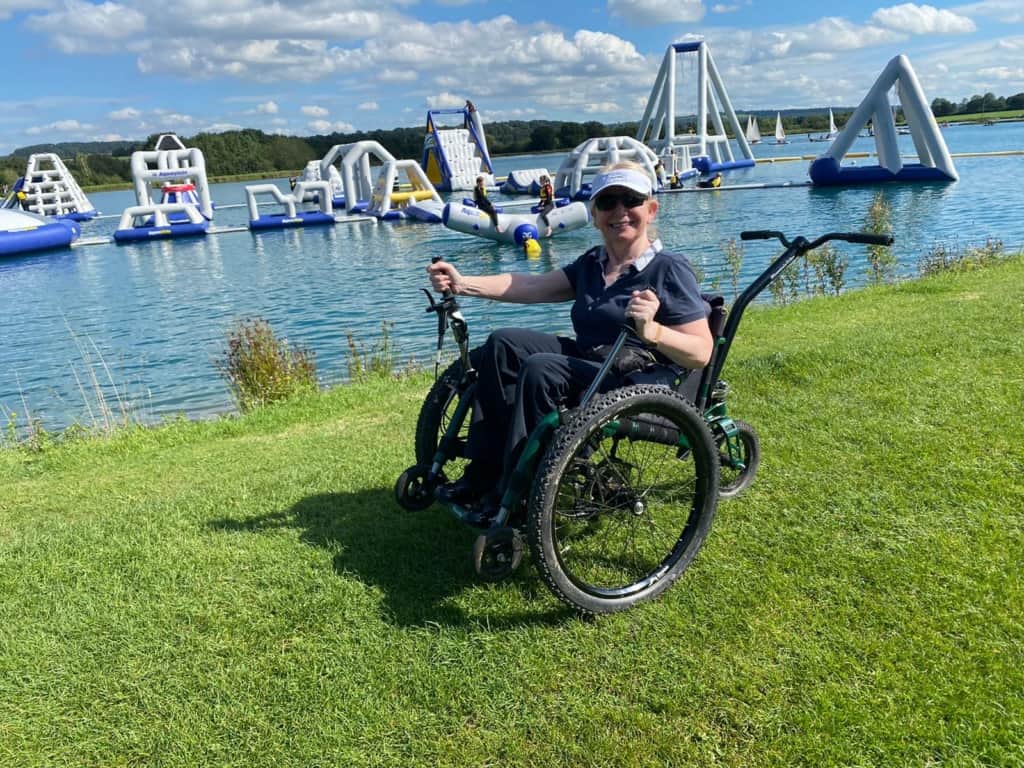 The Mountain Trike is a 3-wheeled, all-terrain wheelchair. Its chain driven levers allow the user to propel the chair without putting their hands on the wheels, and the mountain bike-style suspension and rugged tires can tackle almost any terrain.
"[As] soon as I got into it, I knew it was the right thing for me. I became an ambassador for the Trike and now I'm pleased to be setting up Chester Wheelers as a mountain trike hire scheme for people in Chester."
Chester Wheelers is a Mountain Trike Experience Centre managed by Eileen. They recently secured funding via Space Hive, a council-backed crowd-funding platform, to purchase a 'Walking Wheelchair' Mountain Trike. Eileen only found out a couple of weeks ago that she'd reached her target so now she is waiting for the Trike to come off the production line and be ready for more wheelchair-users to explore Chester and its natural surroundings.

Eileen plans to give people tours of the local area in the Trike so they can learn how to use it and can enjoy the local parks and historical sites, then once they are confident people will be able to hire it for independent use.
"If more people know about it more people will then be able to get the use of it and experience it, We hope that students from local schools, colleges and the university will be able to take part in field trips and events as a result of being able to hire the Mountain Trike, and that more tourist attractions will see the benefit of purchasing their own Mountain Trike for visitors to better access their grounds and facilities."
For Eileen, the whole aim is to show people how active it's possible to be with the right equipment, and to allow more people to enjoy streets, gardens, country parks, and beaches without pain.

Its great to see these new initiative around the country, get in touch if you have a similar story to tell.