The Great British Railways Transition Team is currently consulting on a 30-year Whole Industry Strategic Plan, which aims to transform the rail network to make it serve the needs of its customers while providing value for money for the taxpayer. It aspires to create a railway that not only puts passengers and freight-users first, but also supports wider policy objectives, such as economic development, environmental targets, and levelling-up across the UK. Through the consultation, they are hoping for input from a wide range of stakeholders to help them create a 'better railway for everyone in Britain'. Which, in light of our recent blog posts about inclusive public transport, got us thinking. What would a 'better railway for everyone' – which means a better railway for Disabled people – look like? Would it support the wider aims of a financial sustainability, levelling-up, economic growth, and environmental sustainability?
Fully Accessible Railways
Fully accessible railways would enable everyone to travel by train, to any station at any time on the railway timetable. This would require substantial investment in station and rolling stock upgrades, staff training, and improvements in access to timetables, booking systems, and getting information updates. It might, possibly, look something like this: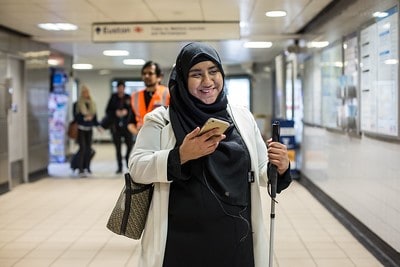 When booking tickets, passengers could make just one booking for the whole of their journey, rather than make bookings for each stage to ensure that they got the assistance or provisions they needed. Websites, phonelines, and automatic ticket machines would be fully accessible.
Stations would have step-free access, wide ticket barriers, tactile paving, handrails, and clear colour-contrasts throughout. Information would be presented clearly in a wide range of formats. There would be regularly rest points, and reserved quiet waiting rooms on all platforms.
Stations would have step-free access, wide ticket barriers, tactile paving, handrails, and clear colour-contrasts throughout. Information would be presented clearly in a wide range of formats. There would be regularly rest points, and reserved quiet waiting rooms on all platforms.
Trains would be easy to board and alight from. There might be handrails by the doors, automatic ramps or staff at every station able to use portable ramps, ideally the train would be flush with the station. There would be plenty of space reserved for wheelchair or mobility-aid users. Disabled cyclists would be able to take their cycles on trains, and there would be space for storing non-standard cycles. As on stations, the colour-contrasts on board would be clear and information would be presented in a range of formats. The quiet coach would be kept quiet.
Staff throughout the rail network would be trained in Disability awareness, and would be able to help people with a wide range of Disabilities, treat them with respect, and resolve any conflicts with other passengers. There would be designated assistance staff at every station who would be easy to contact, but other staff would also be given sufficient training to help if necessary. Disabled passengers would be able to use an app or talk to on-board staff to contact staff at stations while travelling to ensure that they received any assistance they needed or receive any travel updates or changes to their journey. There would be a mentor or travel-support scheme, to allow Disabled people to be accompanied on journeys if necessary.
The accessibility of stations and rolling stock, the awareness of staff, the accessibility of information and ease of communication would be such that any Disabled passenger could turn up at any station and take any train to get to their destination as easily as a non-Disabled person. Train travel for Disabled people would no longer require complicated routes to find the accessible stations, pre-booking assistance from a range of rail services, or highly detailed plans which still don't work out due to a broken ramp.
Wider Impact of an Inclusive Rail Network
Would a fully accessible, inclusive rail network meet the Great British Railway's wider aims of financial sustainability, economic growth, levelling up, and environmental sustainability? Would this level of investment be worth it?
Aside from the fact that Disability access is a fundamental right, and shouldn't depend on whether it is 'value for money', we think an accessible railway would help meet these aims. A fully accessible, inclusive railway would make it easier for everyone, not just Disabled people to travel, and would ensure that the wider aims included the 20% of the UK population who are Disabled. It would mean: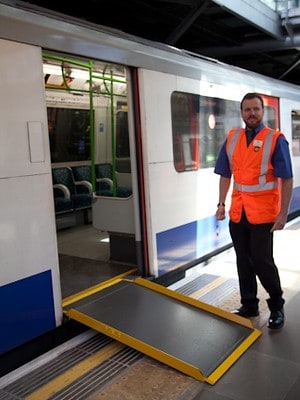 More people would be able to consider travelling by rail, increasing the consumer base for the rail network. If more people can travel by rail, more people can become paying passengers, improving the financial sustainability of the railway.
If more people can travel, more people can access employment opportunities, services, education, or leisure activities. This is particularly important for Disabled people, who are less likely to be able to travel independently, less likely to be in employment, and whose potential spending power (the 'purple pound') is often undervalued. Being able to travel independently can help address this, leading to economic growth.
Levelling-up and developing greater connectivity between different places and regions in the UK will only lead to greater equality if the whole of the local community is included. The UK will not be 'levelled up' if only non-Disabled people are able to travel easily between towns and access the economic benefits.
Public transport is cited as key to reducing private car use and the carbon footprint of the transport sector. If Disabled people are excluded from public transport – including the railways – then they will remain reliant on private car use for day-to-day journeys, making it harder to achieve Net Zero.
Investing in the rail network to make it fully accessible and inclusive is key to creating a railway that is better for everyone.
Your Stories
Whether you currently travel by rail, or would consider travelling by rail if it were possible for you to do so, or are simply a UK resident, you are a stakeholder in the Great British Railways – so the consultation should consider your views. What stories do you have about rail travel as a Disabled person? How would better accessible rail affect you? What would need to change in order to make it easier – or even possible – to travel by rail? Let us know in the comments below, or send us an e-mail, and we'll incorporate it in our response to the consultation.