On the strength of their presentation at the Cycling and Society Symposium in 2017, our Director Isabelle Clement and our Campaigns and Policy Officer at the time Neil Andrews were contacted about the possibility of contributing a chapter to appear in a future publication. We're thrilled to announce that a few weeks ago, 'Cycling Societies: Innovations, Inequalities and Governance' was officially launched – and Wheels for Wellbeing is one of the chapter authors!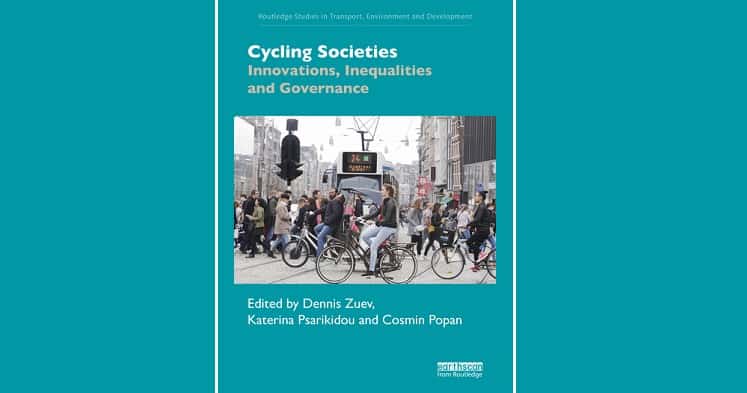 Isabelle Clement said: "Seeing Wheels for Wellbeing's work printed alongside that of renowned researchers fills me with great pride! I thank Dennis Zuev, Keterina Psarikidou and Cosmin Popan, the editors of Cycling Societies very much for all their work in coordinating this excellent publication, for inviting us to contribute to it and for their support and guidance in finalising our chapter, titled: 'Invisible Cyclists? Acknowledging the Needs and Rights of Disabled Cyclists'. This, I believe, is a first – but I look forward to the day when academic publications routinely publish research on different aspects of Disability and Cycling by a variety of experts in this fast developing field!
The book (quoted directly from Routledge) "examines emerging debates and questions around cycling to critically analyse and challenge dominant framings and prevalent conventions of 'good cycling'.
Cycling Societies brings to light the plurality of voices and forms of cycling in other societies, revealing the diversity and complexity of cycling across different socio-political regimes, geographies and cultures. It presents case studies from five continents and demonstrates the need of thinking comparatively about cycling and urban environments. The book pivots around the three themes of innovations, inequalities and governance and engages a diversity of voices: world-renowned academics in the field of cycling and urban mobility, cycling activists and transportation consultants.  
Synthesising academic contributions with policy briefs, this innovative book will be of great interest to students, scholars and practitioners of sustainable transportation, urban planning and mobility studies."
You can buy the 'Cycling Societies: Innovations, Inequalities and Governance' book for £34.99 (RRP) – click here to visit the Routledge website.