You can take part in one of our fundraising events including our annual Easter Bunny Ride, where our supporters do sponsored cycle rides dressed as bunnies! This event is a chance to get creative with your bunny costumes; keep fit over the cooler months and raise some all-important funds for Wheels for Wellbeing!
You can also raise money for Wheels for Wellbeing through external events including marathons, sponsored swims or cycle rides. Keighley Jensen shares her experiences taking part in Parallel London, the world's first fully inclusive sporting event and raising money for Wheels for Wellbeing:
"I started cycling to find ways to feel physically challenged while respecting the limits that my condition places on my body. The 10K challenge was just another way for me to push my own limits, and the inclusivity of Parallel let me complete the 10K in a way that was safe and fun for me.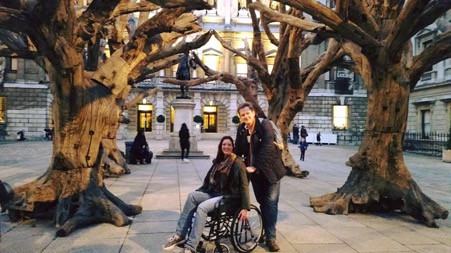 I chose to support Wheels for Wellbeing because they have provided me with the equipment and support to undertake an activity that most people take for granted. I want every disabled person to know about and be able to access cycling if they want to.
After I finished I felt so tired I could not remember where I was! But after a couple of days rest I was so proud of myself and what we had achieved, not just the 10K but also the money raised for Wheels for Wellbeing and the awareness that we had raised. It also left me in peak physical condition for an operation on my leg so it had many health benefits too."
You can read more about Keighley's challenge in her blog.
If you would like to learn more about supporting Wheels for Wellbeing then fill in the form below, call Liz on 020 7346 8482 or drop us an email liz@wheelsforwellbeing.org.uk.